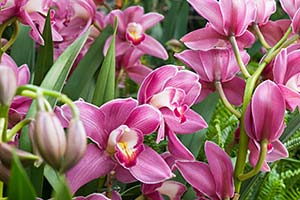 Friday, February 13, 2015
5:30 – 7:30 p.m.
$125
Valet parking

Celebrate the opening night of the Orchid Show! Enjoy cocktails, hors d'oeuvres, and rhythms from the Chris Forte jazz ensemble.

And the flowers?
More than 10,000 orchids, all blooming at once. Be among the first to view the show. 
Stroll through the Greenhouses and galleries to experience the first night of the Orchid Show, starring orchids in all shapes and sizes, draped, arched, and woven throughout.
The Woman's Board of the Chicago Horticultural Society presents the preview evening. Join us!
The Woman's Board is in its fourth year of "Growing the Future," a $1 million pledge to the Chicago Botanic Garden. For additional information about the Preview Evening, please call (847) 835-6833.