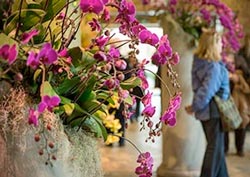 The fascinating family Orchidaceae stars at our annual Orchid Show. A month-long slate of  orchid events and classes offers interesting experiences for adults, kids, and families.
Photography
Of course you'll be taking pictures! Need inspiration? Large-scale orchid images by Anne Belmont, photographed at our 2014 Orchid Show, line the walls of Krehbiel Gallery on your way into the exhibition.

Share your best orchid images: enter the Orchid Show photo contest.
Tripods and monopods are not allowed in the exhibition except for Wednesdays from noon – 4 p.m.
Photographers: get exclusive access to the Orchid Show with private photography rental for groups of up to 20, with tripods allowed. Available every day of the exhibition for one hour each morning (9 to 10 a.m.). Fee of $300 includes parking. Call (847) 835-6801 for details.
Click here for Photography walks and classes.
Orchid Marketplace
Every weekend during the show, orchids are for sale at the Orchid Marketplace. An extra bonus: members of the Illinois Orchid Society offer repotting services for the orchids you bring from home.
Click here for our video blog about repotting orchids.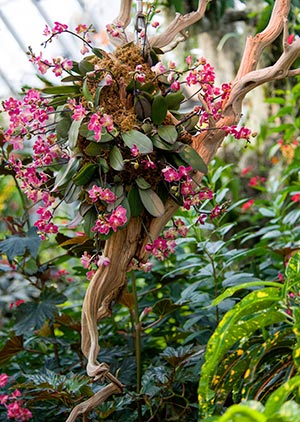 Garden Shop
The perfect gift: a mini orchid from our Garden Shop! Don't miss the orchid pots, books, and jewelry—and our exclusive line of orchid-illustrated home accessories and kitchenware! Got a taste for vanilla? Nielsen-Massey vanilla products are here, too.
Learn from the Experts
Ask the Illinois Orchid Society all of your orchid questions; society orchid experts will be on hand every weekend during the Orchid Show. The society will hold its annual spring show of judged orchid displays in Nichols Hall.
Visit the Orchid Society website.
Post-Orchid Show Plant Sale
Thursday, March 17, 2016
10 a.m. – noon: Garden Plus members only
Noon – 2 p.m.: – Garden members (all levels of membership) only
2 – 4 p.m. – Open to the public

If orchids are still available at the end of the day, the sale will open to the public on Friday, March 20 (while supplies last).