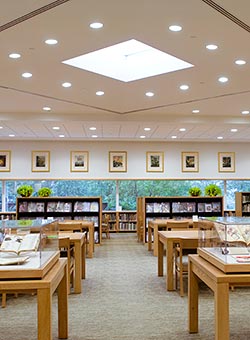 Come explore the hidden gems in this special library with your public library!
Guided program:
1 p.m. Gather in the Lenhardt Library, located in the Regenstein Center
1 - 1:30 p.m. Welcome, Lenhardt Library tour, Gallery talk on the library exhibition
1:30 - 2 p.m. Rare book viewing (ages 10 and over) of specially chosen rare books
2 - 4 p.m. Explore all that the Chicago Botanic Garden has to offer
How to participate:
This program is only available for specific Public Libraries. Check the schedule below for your public library day.
Register for this program at your Public Library. Registration is limited to 40 individuals.
On the specified day, from 12 – 1 p.m., show your Public Library card to the Chicago Botanic Garden Gatehouse, give your registered name, and your parking cost will be waived.
Admission to the Chicago Botanic Garden is always free—365 days a year.
2015 Library participants
May 3, Westchester Public Library
June 9, Oak Park Public Library
July 12, Blue Island Public Library
August 16, Des Plaines Public Library
September 20, Lincolnwood Public Library District
PAST PUBLIC LIBRARY PARTICIPANTS
If your public library is not listed, ask for this program at your public library!
May 18, 2014, Chicago Public Library–Edgebrook Branch
June 22, 2014, Arlington Heights Public Library
July 27, 2014, Vernon Area Public Library District
August 24, 2014, Carol Stream Public Library
September 14, 2014, Niles Public Library
October 19, 2014, Lake Villa District Library
May 5, 2013, North Chicago Public Library
June 9, 2013, Ela Area Public Library
July 14, 2013, Northbrook Public Library
August 18, 2013, Palatine Public Library
September 22, 2013, Glenview Public Library
May 6, 2012, Evanston Public Library
May 20, 2012, Glencoe Public Library
June 3, 2012, Waukegan Public Library
August 5, 2012, Skokie Public Library
August 19, 2012, Highland Park Public Library
August 26, 2012, Wilmette Public Library
June 12, 2011, Deerfield Public Library