Explore the Garden
The Kleinman
Family Cove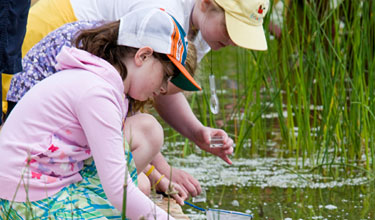 A center for teaching about the importance of water. A place to investigate aquatic plants and animals. A reservoir of water conservation information. The Kleinman Family Cove, located on the Garden's North Lake along 800 feet of restored shoreline gardens, is all these — and more.
Designed by Oehme, van Sweden & Associates and featuring a boardwalk, amphitheater, protected wading area, and native plants, the Cove will enable students, adult educators, and visitors to learn about the critical role freshwater systems play in the health of the natural world. With the nation's largest collection of aquatic plants and 81 acres of lakes and waterways, the Chicago Botanic Garden is uniquely positioned to teach about the importance of freshwater systems.
Cove Highlights
A canopied outdoor amphitheater overlooks a small bay where students will don waders and use nets to analyze aquatic animal life, assess water quality, and discover why water is important to human health.


On a broad boardwalk, students can view aquatic plants at different depths, perform water tests, and sample water for aquatic creatures.


A demonstration garden reveals the importance of shoreline management and aquatic plants.


Interpretive signage guides even casual visitors to observe and understand aquatic wildlife and habitat.

Click here to download a list of the plants growing in the Family Cove.
Audience
The Cove will serve the 75,000 family members who take part in on-site programs, as well thousands of Chicago Public Schools students and other school-district students on field trips. It is also an ideal site to host Camp CBG groups, Scouts, and participants in the Garden's Science Career Continuum programs. More than a thousand teachers from early childhood through high school will visit the Cove annually through teacher development programs aimed at improving environmental education. Visitors are welcome during Garden hours.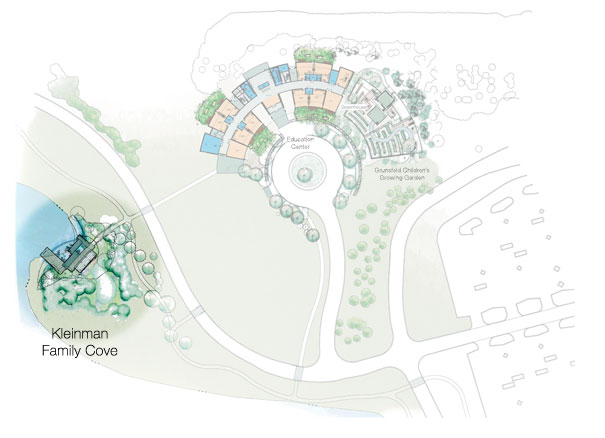 The Kleinman Family Cove was made possible by the generous support of the Kleinman Family.