Explore the Garden
The Education Center
Future Vision
The Chicago Botanic Garden is in the process of raising funds for the Education Center. If you are interested in making a donation, please call (847) 835-6838.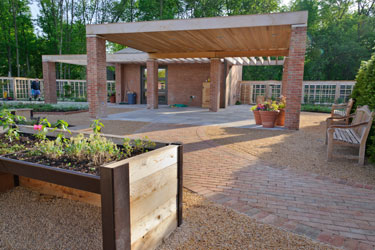 Imagine students of all ages and abilities learning about plants and the complex environmental factors — climate, water, human development, and invasive species — that support or undermine healthy ecosystems. Even better, picture them in a sustainably built, light-filled space as they explore ecosystem biodiversity. This is the purpose of the Garden's innovative Education Center, on which construction will begin once fundraising is completed.
Green Design
The Education Center is designed as a Leadership in Energy and Environmental Design (LEED) platinum project by the architecture firm of Booth Hansen in collaboration with the Rocky Mountain Institute (RMI) of Boulder, Colorado. According to the U.S. Green Building Council, "LEED provides…a framework for identifying and implementing practical and measurable green building design, construction, operations, and maintenance solutions." Ingeniously designed walls and a green roof will insulate the Education Center and lower energy needs when outside temperatures are extreme. Solar panels will produce enough electricity to meet much of the building's demands, and rainwater collected from the roof will be drain directly to the North Lake for recycling.
Classrooms

Designed to strengthen connections to the outdoors and expand learning opportunities for children and adults, the Education Center will have eight classrooms, all opening to outdoor garden spaces and all lit by natural light. Integrated teaching tools including wireless computer communications, active use of Geographic Information System (GIS) technology, and smart boards, which capture and create written documents from "white board" jottings, will support lessons about the living world.
Two of the classrooms, complete with bathroom facilities, are custom designed for early childhood programming. This important feature of the new Center will allow the Chicago Botanic Garden to significantly expand its education programs for the very smallest learners, their parents, and early childhood educators.
A fully equipped demonstration kitchen classroom will serve as a cooking classroom where children and adults can learn about food preparation and basic food chemistry, test recipes, and explore the important connection between field and fork, diet and health. This certified kitchen will add a significant new dimension to the Garden's teaching resources.
Other Features
A partially covered, spacious atrium will welcome visitors and offer activity space for students and groups. The Education Center also will have two greenhouses to allow for year-round teaching about plant and animal ecosystems, and plants from different growing zones.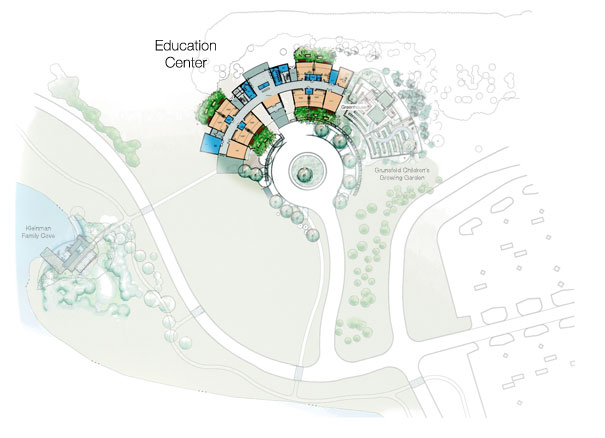 Dimensions
The Education Center is 25,000 square feet.
The classrooms are each 700 square feet.
The two greenhouses are each 800 square feet.
The atrium is 2,000 square feet.
The terrace is 1,000 square feet.