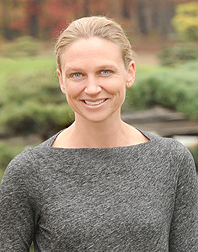 Sophia Shaw Siskel has served as president and CEO of the Chicago Botanic Garden since 2007. Since 2005, the Garden has seen a 37 percent, 258,000-person increase in attendance and now serves nearly one million visitors annually, including guests representing 50,000 member households, cyclists, and pedestrians who enjoy the Glencoe campus for free, thanks to the model public-private partnership between the Chicago Horticultural Society (founded in 1890) and the Forest Preserve District of Cook County. The Chicago Botanic Garden is the 12th largest tourist attraction and the 7th largest cultural institution in the Chicago area.
As one of the handful of great public gardens of the world, the 385-acre, 40-year-old Chicago Botanic Garden excels in delivering an inspiring four-season horticultural experience; an engaging calendar of public programs; formal and informal education for 100,000 students of all ages each year; world-renowned research in plant conservation science; and jobs training—in conservation for the Department of Interior in 12 western states, and in urban agriculture and horticulture for the City Colleges of Chicago, Chicago Public Schools, Cook County Sheriff's Office, and Lake County Forest Preserve.
Sophia brings skills from her educational background, experience in art history and exhibition development, and a passion for nature and gardening to her leadership of the Chicago Botanic Garden. Growing up in downtown Chicago as the daughter of an architect and an architectural historian, Sophia spent many hours learning about art, design, and construction at the Art Institute of Chicago, the Field Museum, the Arts Club of Chicago, and with her father at large-scale office-building job sites. These informal educational experiences led to Sophia's B.A. in art history and economics from Wellesley College (1991), as well as her subsequent M.A. in art history from the University of Chicago (1994) and curatorial positions at the Art Institute of Chicago (1993–95) and the Museum of Contemporary Art, Chicago (1995–97). During this time, Sophia also compiled and contributed to the book The Arts Club of Chicago: The Collection 1916–1996, and contributed to several other publications in conjunction with exhibitions or her family's legacy Joseph H. Winterbotham Collection at the Art Institute. Her ambition to become a museum leader led her to complete an M.B.A. (1999) in finance and accounting from the evening program of the Kellogg Graduate School of Management, Northwestern University. This business training has proved essential to Sophia's ability to manage the Garden's annual nearly $30 million operating budget, $60 million endowment, 240 full-time staff, and fundraising and financing for important capital projects, including the Daniel F. and Ada L. Rice Plant Conservation Science Center (2009); the Trellis Bridge and Bernice E. Lavin Plant Evaluation Garden (2011); and the Grunsfeld Children's Growing Garden, the North Lake Shoreline, and Kleinman Family Cove (2012).
During Sophia's more than eight years at the Field Museum (1997–2006), culminating in her service as vice president of exhibitions and education, she led the 120-person team that worked on over 70 exhibitions; among her favorites are permanent exhibitions Evolving Planet and Ancient Americas, and temporary exhibitions China's Forbidden City, Chocolate, Dead Sea Scrolls, Pompeii, Pearls, and Japanese Baskets.
Sophia joined the Chicago Botanic Garden in 2006 as vice president of visitor programs and operations and was able, when promoted to president and CEO in 2007, to apply her experience and knowledge of the Garden to lead the board of directors and staff in creating the 2010–2020 "Keep Growing" strategic plan that guides the Garden's work today. The Chicago Botanic Garden's annual report video is available on the strategic plan website.
Sophia is also honored to serve as president of the Arts Club of Chicago (2011–present), which will celebrate its 100th anniversary in 2016. She is also an active member of the Young Presidents' Organization Chicago Chapter (2007–present), the Commercial Club of Chicago (2010–present), the Chicago Network (2008–present), and the Economic Club of Chicago (2000–present), among other affiliations. In conjunction with her work, Sophia has been quoted or profiled in many local and national media (Chicago Tribune, Crain's Chicago Business, WTTW's Chicago Tonight, The New York Times).
Sophia is married to Jonathan Siskel, Emmy-winning documentary film producer and co-founder of Siskel/Jacobs Productions, and is a mother of two sons.