President and Chief Executive Officer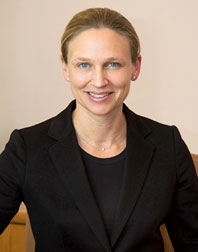 Sophia Shaw serves as president and CEO of the Chicago Botanic Garden, one of the largest cultural institutions in Chicago and one of the preeminent botanic gardens of the world. The Garden's main campus welcomes more than one million visitors annually to its 385-acre living plant museum featuring 26 gardens and 81 acres of lakes and rivers, as well as a 15-acre prairie and 100-acre woodland. The Garden is an international leader in horticulture, plant biology and conservation, and public engagement, and serves as an international model for urban agriculture and horticulture jobs training and education, emphasizing programs for diverse and underserved communities in partnership with schools, hospitals, and rehabilitation centers.

Sophia joined the Garden as vice president of visitor programs and operations in 2006, and was promoted to president and CEO in 2007. Under Sophia's guidance, the Garden generated a 52 percent increase in attendance from 2005–14, and five years of record-breaking fundraising ($39 million in 2014) and operating budget results. Other significant achievements include leadership and ongoing execution of the Garden's ten-year strategic plan and master site plan, "Keep Growing" (2010–20); the opening of the Gold LEED-rated 38,000-square-foot Daniel F. and Ada L. Rice Plant Conservation Science Center and launch of the plant biology and conservation Ph.D. program with Northwestern University (2009); the Trellis Bridge and Bernice E. Lavin Plant Evaluation Garden (2011); the Grunsfeld Children's Growing Garden, North Lake shoreline restoration, Butterflies & Blooms, and Kleinman Family Cove (2012); the Orchid Show, 1.3-mile North Branch multiuse trail addition, and groundbreaking for the ten-acre Kris Jarantoski Campus (2014); and the groundbreaking for the seven-acre Learning Campus (2015).  
Sophia holds both a B.A. (Wellesley College) and an M.A. (University of Chicago) in art history and an M.B.A. in finance (Kellogg Graduate School of Management, Northwestern University). Prior to joining the Chicago Botanic Garden, she served at the Field Museum as vice president for exhibitions and education. Sophia also serves as chair of the Plant Conservation Alliance (PCA) Non-Federal Cooperator Committee and is immediate past president of the board of the Arts Club of Chicago. She is active in the Young Presidents' Organization (YPO) Chicago chapter and is a member of the Commercial Club of Chicago, among other affiliations. Sophia has been a gardener and naturalist since she was a child.