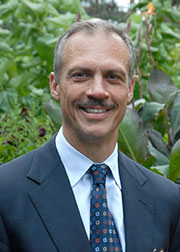 Awards and Honors
Honorary Life Member,
American Public Gardens Association, 2014
Distinguished Service Medal, Garden Club of America, 2011

Professional Award, American Horticultural Society, 2007
Horticultural Commendation Award, Garden Clubs of America, Zone XI, 2007
Special Recognition Award, Garden Writers of America, 2003
As executive vice president and director of the Chicago Botanic Garden, Kris Jarantoski develops and directs the horticulture, plant collections, and facilities and planning. On the staff since 1977, Jarantoski has played a major part in the creation of every one of the 26 gardens at the Chicago Botanic Garden.
In 2007, the American Horticultural Society presented Jarantoski with its Professional Award for his significant contributions to the field of horticulture. In presenting the award, Society President Tom Underwood noted that Jarantoski "will be joining a list of true horticultural heroes — outstanding people who have made a difference in American horticulture." In 2011, the Garden Club of America presented Jarantoski with the award for outstanding service in the field of horticulture. The Garden Club of America noted that "with inspiration, dedication, determination, and joy, he has contributed in virtually every area — training of staff and creation of intern programs, security, horticultural therapy, building and documenting plant collections, science, horticulture, and garden display."
A longtime member of the American Public Garden Association, Jarantoski serves as a member of the Collections Committee and Design and Planning Section. He also served as chair of the Awards Committee and as Midwest Regional Coordinator for APGA, and has written numerous articles for American Nurseryman, The Public Garden, The Herbalist, and Museum News.
Jarantoski also serves as a Member of the Screening Committee of the Garden Conservancy.
In addition to leading all horticultural efforts at the 385-acre Garden, Jarantoski has participated in research efforts evaluating, selecting, and hybridizing dieback shrubs to improve their suitability to the Chicago area.