SUPPORT US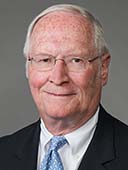 Robert F. Finke
Message from the Chair

The Chicago Botanic Garden is the product of a unique public/private partnership. The Garden is owned by the Forest Preserve District of Cook County and operated by the Chicago Horticultural Society. Critical funding provided by the Forest Preserve, and generous support from individuals, corporations, foundations, and other governmental entities, enables the Garden to provide a beautiful, welcoming garden for people to visit and enjoy, programs that provide educational opportunities at all levels, and the scientific research so necessary to enhance and preserve our environment. I extend the appreciation of the Society and that of everyone who benefits from the Garden to all those whose support each year allows the Garden to maintain and enhance its position as one of the leading and most visited gardens of the world.
The Garden enjoys a staff of extraordinary skill and dedication who work every day to provide a memorable experience that encourages members and visitors to return again and again, and to provide education and training programs in horticulture and urban agriculture that reach into every part of our community. Whether in management and administration, or horticulture, or scientific research, or education and community outreach, or maintaining the Garden's physical surroundings, every staff member and each of the hundreds of volunteers who help the Garden in so many ways is important to the Garden's mission, which is to promote the enjoyment, understanding, and conservation of plants and the natural world.
The Chicago Botanic Garden is an extraordinary resource that serves not only our community but the world.
Read the Chicago Botanic Garden 2012 Annual Report.