•
•
•
•
•
•
•
•
•
•
•
•
•
•
•
•
•
•
•
•
•
•
•
•
•

General Info
Frequently Asked Questions
Did the dam on Willow Road ever cause flooding for North Shore residents?
Answer: No.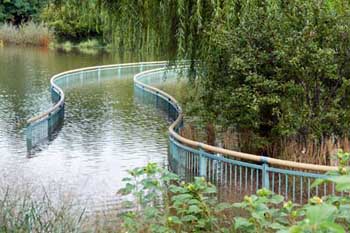 A local dam originally built by the Civilian Conservation Corps in the 1930s was reconstructed in 2008. The dam, on Willow Road in Northfield, is owned by the Forest Preserve District of Cook County. It regulates flow from the Skokie Lagoons to the Skokie River. Several inefficient culverts were replaced with a weir, which is a rectangular notch that more efficiently allows water to flow through. The $1.6 million reconfiguration of the dam was not designed to alter the amount of water passing through to the other side.
Last September, the North Shore experienced a storm resulting in flooding so severe that the Garden was closed for four days. Whenever there is excessive rainfall, the Garden closes its weir to contain the water in the Garden — effectively flooding itself — to help protect the downstream Cook County communities. The Garden holds in the water until the flood crests, waits for the water to recede to safe levels, and only then allows water to flow south. Last September, when the water levels rose 6 feet, covering the Garden's intersections and bridges, the Garden retained an estimated 100 million extra gallons from reaching downstream communities.