What's in Bloom
What's in Bloom at the Chicago Botanic Garden
March 5, 2014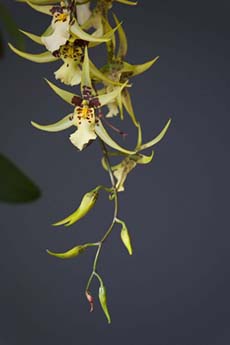 The hybrid × Maclellanara Yellow Star 'Golden Gambol' grows 1½ feet tall with long sprays of closely spaced, aromatic, spidery, 3- to 4-inch blooms that are light yellow-green on the upper petals and heavily mottled with maroon/brown on the lip and centers of the petals. It can produce 8 to 12 blossoms on each spike, which emerges from the base of each pseudobulb. Sometimes referred to as a spider orchid because of the long, slender shape of its petals, this beautiful hybrid can be grown indoors, where it thrives in intermediate to warm growing conditions with high humidity (50 to 70 percent) and bright, diffuse light.
Come see orchids galore in the greenhouses and galleries during the Orchid Show from February 15 through March 16. The orchids are planted among other colorful tropical plants including palm trees, hibiscus, aloes, acacias, kalanchoes and jasmine.
Bundle up and enjoy a brisk winter walk and see the ever-changing beauty of the landscapes at the Chicago Botanic Garden. Plentiful snow has it turned vistas into picture-postcard scenes. Evergreens, ornamental grasses, berries and bark can provide interest even on dull, cloudy days. Red-twig dogwood, the green-stemmed Japanese kerria and yellow willow branches really stand out at this time of year. If we get an extended thaw later in the month, snowdrops may make an appearance.
Take a walk along the East Road or around the Great Basin for ever-changing views of the ice-covered lakes and picturesque bridges.