What's in Bloom
What's in Bloom — Highlight 9.25.12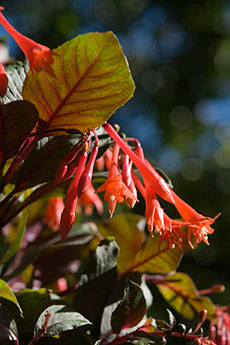 Honeysuckle fuchsia (Fuchsia triphylla 'Gartenmeister Bonstedt') is in the Sensory Garden.
Honeysuckle fuchsia (Fuchsia triphylla 'Gartenmeister Bonstedt') is still going strong, 107 years after the creation of this hybrid. Its coral-red tubular flowers are produced in clusters near the ends of the branches, complemented by deep green foliage tinged bronze on the undersides of the leaves. Maturing at 3 feet by 3 feet, this nonhardy shrub prefers partially shaded conditions and humus-rich, moist soils. It is insect and disease resistant in the Chicago area as long as the soils are kept moist throughout the growing season.
The species name of this plant (triphylla) references the production of three leaves at each node, in contrast to the norm for the other Fuchsia species that produce two leaves per node. This species was first described by Father Charles Plumier on the island of Hispaniola between 1689 and 1697. Carl Bonstedt of Germany created this, and other triphylla hybrids, in 1905.
Symphyotrichum shortii, known as Short's aster, is a native of eastern North America that grows well in full sun to partially shaded environments. Among the most floriferous of the native asters, this plant produces violet-blue flowers with a bright golden center which turns brick-red once the flowers are pollinated. In bloom, the flowers are visited by a wide array of insects including butterflies, while the ripe seeds are a favorite of a number of small seed-eating birds. Free of insect and disease pests, this plant will reseed around the garden.

Short's aster (Symphiotrichum shortii) is on Spider Island.

Sun Sprinkles™ miniature rose (Rosa 'JAChal'), is only the fifth miniature rose to win the coveted AARS Award of Excellence since 1933. Maturing at 2 feet in height, this rose is covered with 2-inch, deep golden-yellow blooms throughout the growing season. The dark green, glossy leaves are disease resistant.

Sun Sprinkles™ miniature rose (Rosa 'JAChal') is in the Rose Garden.

Although the foliage makes this tidy plant an attractive addition to the shade garden, the flowers of Miyazaki hairy toadlily (Tricyrtis hirta 'Miyazaki') are so unusual that they must be viewed up close. They are white with pale purple spots, and they occur in clusters all along the stems in the leaf axils. What an amazing plant! Use it where its orchidlike flowers can be appreciated, as an accent plant or container plant. This is a fall-blooming perennial with striking, unusual flowers.

Hairy toadlily (Tricyrtis hirta 'Miyazaki') is in the English Walled Garden.

Waterlily crocus (Colchicum 'Waterlily') delights and thrills gardeners in September when the large (6-inch-tall by 5-inch-wide) double flowers begin to open. Reliably hardy in the Chicago region, the broad green leaves are produced in spring and die back in early summer, so that the flowers appear to spring from the bare soil in fall. Deer and rabbits dislike the chemicals in the sap — which are toxic and cause chromosomal abnormalities — but slugs, for some reason, appear resistant to the chemicals (only a problem in wet falls). Plant these bulbs in full sun to partial shade and avoid disturbance. Over time the original bulb (a corm, actually) will produce "daughter" bulbs, resulting in dozens of flowers.

This cultivar is the result of a cross between Colchicum autumnale 'Alboplenum' and Colchicum speciosum 'Album'. Through the miracle of genetic recombination, these two small-flowered white cultivars created this very large-flowering lavender cultivar, which sports dozens of petals in a single bloom.

Waterlily autumn crocus (Colchicum 'Waterlily') is in the walk between the Bulb Garden and Home Landscape Garden.

Use this map to help plan your walk.