What's in Bloom
What's in Bloom — Highlight 9.11.12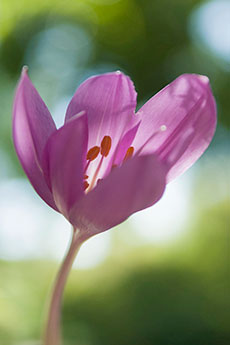 Autumn Herald autumn crocus (Colchicum 'Autumn Herald') is in the Bulb Garden.
Beginning in mid-September, Autumn Herald crocus (Colchicum 'Autumn Herald') produces goblets of amethyst-violet flowers with orange stamens and a white blotch at the base of the petals. The broad, elegantly pleated foliage appears in spring and dies down by early summer. Shortened days, cooling temperatures, and autumn rains initiate the flowering cycle for the most frequently purchased fall-blooming crocuses. Plant this fairly large corm in sunny or partially shaded areas in soils that never completely dry in summer.
All parts of the plant are poisonous to people and animals alike. Extracts were once prescribed to treat a variety of ailments—before the side effects were fully understood. A chemical known as a mitotic poison prevents cells from dividing normally, resulting in cells with double the number of chromosomes. Plant breeders have used this attribute to create new hybrid lines of agronomic and horticultural crops, but beneficial effects on animals are less common. An infamous nineteenth-century murderess is thought to have used Colchicum to poison her victims.
New York aster (Symphiotrichum novi-belgii) is a perennial that can range in height from 1 to 6 feet tall!

Noted for producing more flowers than its relatives, Symphiotrichum novi-belgii 'Chequers' is a cultivar that features violet-purple daisy flowers with golden centers on a reliable perennial reaching 2 feet in height and width. Use it for a nice splash of color in a fall garden. Plant in full sun and moist soils for best flower production. A butterfly attractant, this plant is insect and disease free. However, rabbits and deer can be problematic.

Hundreds of New York aster cultivars are now commercially available; 'Pink Bouquet' and 'Professor Kippenburg' are Chicago Botanic Garden favorites. As its name suggests, the New York aster is native to the eastern part of the United States.

Chequers New York aster (Symphiotrichum novi-belgii 'Chequers') is in the English Walled Garden.

Throughout the summer and into fall, Starry Night™ shrub rose (Rosa 'Orawichkay') produces masses of pure white, single flowers reminiscent of dogwoods in the South. The flowers are sterile and "self clean" (fall off by themselves), and the foliage is deep green and disease resistant. Plant in full sun, in well-drained but moist soils, and provide a minimum radius of 3 feet between this rose and other plants. Its final growth height in the Chicago region is about 3 feet during a normal year.

This rose is recommended by the All-America Rose Society Selection as a landscape rose. Landscape roses, an informal class, all feature plants that are disease free and require little maintenance, while returning maximum flower production. Winter-hardy roses mean less work in early winter to mound the plants with a protective layer of mulch, less time in very early spring removing the protective mulch, and less time and money spent replacing plants that died over the winter.

Starry Night™ shrub rose (Rosa 'Orawichkay') is in the Rose Garden.

Heartthrob dahlia (Dahlia 'Heartthrob') is classified as a collarette dahlia. It has an outer ring of eight large crimson petals overlaid by smaller, frilly petals of red and pale yellow. The bright yellow central disk is prominent and provides a nice contrast to the dark petals. Heartthrob dahlia grows to 3 feet tall with flowers measuring 3 inches across.

Dahlias grow from tubers, which can be saved for another season if you wish to go to the trouble. Doing this requires cutting back the plants before a heavy frost and leaving at least 3 to 4 inches of the stems, where "eyes" form. Soil needs to be washed off. The tubers need to be packed in dry sphagnum moss and stored in a cool, dark place at temperatures between 40 and 55 degrees Fahrenheit. If they become shriveled, a little water can be added. Replant in the spring when all danger of frost is past.

Heartthrob dahlia (Dahlia 'Heartthrob') is in the Circle Garden.

Sweet Purple sweet William (Dianthus barbatus 'Sweet Purple') is a very fragrant bachelor button or sweet William-type dianthus, with deep purple flowers to 3 feet in height on very sturdy stems. Unlike other Dianthus barbatus cultivars, this variety does not need to experience cool temperatures before it comes into flower. This butterfly attractant makes a great cut flower or short-lived perennial in a flower bed. Plant in full sun and provide moderate water. Avoid heavy mulching around the base of plants, which can cause damping off.

Sweet Purple sweet William (Dianthus barbatus 'Sweet Purple') is in the Sensory Garden.

Use this map to help plan your walk.