What's in Bloom
What's in Bloom — Highlight 08.23.11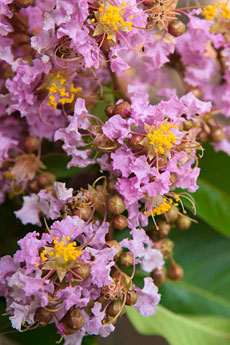 Muskogee crepe myrtle (Lagerstroemia indica x faurieri 'Muskogee') is flowering in the Circle Garden.
Muskogee crepe myrtle is a cross between the common crepe myrtle (L. indica) and a Japanese species (L. fauriei) hybridized and released by the United States National Arboretum (USNA) with superior cold hardiness and resistance to powdery mildew. The light lavender-pink flowers are produced at the tips of the branches from mid-summer through frost, when the dark green glossy leaves turn red-orange. In winter the bark becomes the main feature, with older, cinnamon-brown bark exfoliating in patches to reveal shiny, light gray, new bark.
The USNA created a series of hybrids with different combinations of flower color, size, and bark coloration, and named the different selections after North American Indian tribes. In the deep South, crepe myrtles grow into small trees, but in USDA zones 6 (St. Louis) and colder (zone 5 in Chicago), they usually freeze back to the ground and regrow as multi-branched shrubs.
Gold Medal grandiflora rose is one of the largest-flowered (5–6 inches) and most reliable yellow-flowered grandiflora roses. Yellow flowers with 30-40 petals contain hints of pink and white as they mature. A spicy fragrance and resistance to foliar diseases makes this a welcome addition to any garden.

Gold Medal® grandiflora rose (Rosa 'Aroyaueli) is flowering in the Rose Garden.

Scarlet Magic tassel flower is a native of tropical East Africa, but has spread throughout the tropics. Growing 18 – 24 inches high, the bright red, button-like blooms wave in the breezes atop wiry stems. This species was grown by Thomas Jefferson in his garden at Monticello, possibly as a prospective treatment for diarrheal and intestinal microbial infections. This annual is ideally adapted to hot, humid conditions.

Scarlet Magic tassel flower (Emilia coccinea 'Scarlet Magic') is flowering in the Bulb Garden.

Blue Princess verbena is among the most floriferous verbenas available to gardeners searching for an annual that will produce hundreds of blooms during the heat of summer. This plant also has an interesting past.

It was originally developed in South Africa, where a British gardener spotted it and took it back to the UK, where it was noticed by staff from the Texas A&M Extension Service, who were searching for hardy plants for Texas landscapes. It performed so well under the full sun, heat, and drought conditions of Texas, it was included in their "Texas Superstar Program." Growing to 1 foot tall and up to 3 feet across, the powdery, mildew-resistant plants are covered with lavender-blue flowers that butterflies find irresistable.

Blue Princess verbena (Verbena 'Blue Princess') is flowering on the hilltop overlooking Sensory Garden.

Magic lily is a 'pass along' plant with a long history of cultivation in the USA. Originally a native of China, this sterile triploid produces no viable seeds, saving all of its energy for the production of flowers and additional bulbs. This is one of the indicator species that help archeologists identify old farmsteads. Depending on how spicy your grandmothers or great aunts were, you may know it by the common names of "surprise lilies" or "naked ladies" — the latter common name referring to the habit of the plant to flower in fall well after the leaves have died down (in spring), bursting as a leafless flower stalk from the soil, apparently overnight.

Rabbits, deer, and other wildlife avoid munching on the leaves of this member of the Amaryllis family — they contain crystalline calcium oxylate molecules that cause delicate mouth and throat tissues to become inflammed and swell. All species in this genus are native to the edges of woodlands in Asia and come in white, yellow, pink, orange, and an almost irridescent turquoise blue. Interplant with hostas and other perennials and groundcovers that come up late, but produce attractive foliage to cover the base of the bare stems of the Lycoris.

Magic lily (Lycoris squamigera) is flowering in the English Walled Garden.

Use this map to help plan your walk.