What's in Bloom
What's in Bloom — Highlight 04.05.13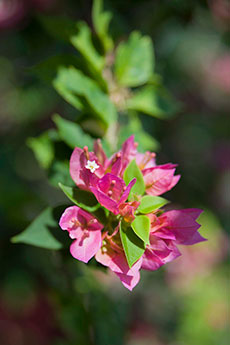 Pink Pixie paper flower (Bougainvillea glabra 'Pink Pixie') is in the Subtropical Greenhouse near the south entrance.
Pink Pixie paper flower (Bougainvillea glabra 'Pink Pixie') is a member of the Nyctaginaceae family. It is a true dwarf form of the huge tropical vines that are star performers in tropical gardens, and is used to provide a bright splash of color in bonsai gardens. Imported from the Philippines, this sun-loving plant is so unusual because of the short distance between nodes on its stems. This feature results in flowers and leaves packed tightly together—a different look from typical bougainvillea hybrids. The blooms of 'Pink Pixie' come from small, bright pink bracts set amid densely packed, matte, yellow-green leaves. The bracts are modified leaves evolved to lure pollinators to the true flowers: small, white, tubular blooms that attract hummingbirds.
This large, widely branched, upright shrub reaches a height of 2 to 4 feet and a width of 2 to 3 feet in USDA Zones 10 and 11. It grows best in full sun and well-drained soil in relatively dry conditions. Plant with care, because it is sensitive to root disturbance and will not transplant successfully once in the ground. This is the best species for containers, patios, and any small, sunny space.
Rondeletia leucophylla is often sold under the name of Panama rose, even though it is actually a native of Chiapas, Mexico. This bushy, large shrub produces masses of pink flowers virtually all year when planted in the ground in a conservatory. Both hummingbirds and butterflies are attracted to the flowers, which, interestingly, don't become fragrant until after the sun goes down — suggesting that it may be pollinated by moths as well.

Panama rose can be grown as a container plant, or in the ground in a frost-free conservatory. Grow in full sun in a setting with moderate moisture.

Panama rose (Rondeletia leucophylla) is in the Tropical Greenhouse.

The hybrid orchid ×Odontocidium 'Areur C. Ching' blooms with dozens of silver-dollar-sized yellow blossoms with reddish-brown banding on long (up to 18-inch), arching bloom spikes. Multiple bloom spikes per plant turn this relatively small-flowered treasure into a bouquet up to 3 feet wide. The banding is inherited from the Odontoglossum parents, while the bright yellow color and multiple flowers are characteristic of the Oncidium side of the family. It likes cool, bright conditions with weekly fertilizing and a temperature range of 50 degrees F. at night and 80 degrees F. during the day. If container grown, a 12-inch or larger clay pot (for stability) is recommended.

Hybrid orchid ×Odontocidium 'Areur C. Ching' is blooming on the southwestern orchid tree in the Tropical Greenhouse.

Japtropha integerrima 'Compacta', commonly known as compact spicy jatropha, produces showy bright pink flowers throughout most of the year. This "compact" selection features shortened internodes (the length of stem between the buds), resulting in a large shrub (versus a medium-sized tree for the straight species). Compare and contrast the very succulent-appearing Jatropha podagricea in the Arid Greenhouse with this species from the relatively moist island of Cuba. Like almost all members of the Euphorbiaceae family, this plant's sap contains a white latex substance that is a skin irritant and can be poisonous if swallowed.

Compact spicy jatropha (Jatropha integerrima 'Compacta') is just west of the Palm Allée in the Tropical Greenhouse.

Haage mammillaria (Mammillaria haageana) originated in Mexico. The first species was described by Carl Linnaeus in 1753. The genus Mamillaria is currently one of the largest in the cactus family, with 171 known species and varieties. This amazing plant, with its cylindrical form and bright carmine rose flowers, is a showstopper of a cactus. The top of each cylinder is crowned with bright, funnel-shaped flowers in a circle surrounding the center. This small gem only grows up to 6 inches tall and 4 inches wide. Its outer spines are short and white, and the inner spines are longer and black. Spine groups on the side are arranged in a closely spaced, spiral pattern (instead of vertically).

This genus has an unusual approach to plant metabolism, absorbing carbon dioxide at night and re-emitting it during the day in a way that improves photosynthesis—a trait these cacti have in common with pineapples. A late-winter bloomer, haage mammillaria should be watered sparingly and grown in light shade with good drainage. Recommended for USDA Zones 9b to 11, it is hardy to 25 degrees F.

Haage mammillaria (Mammillaria haageana) is at the far end of the Arid Greenhouse.

Use this map to help plan your walk.