What's in Bloom
What's in Bloom — Highlight 3.27.12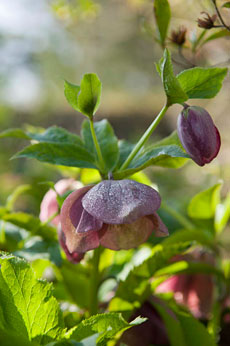 Lenten rose (Helleborus orientalis) is flowering in the Landscape Garden.
Native to northeastern Greece, northern and northeastern Turkey, and Caucasian Russia, Lenten rose (Helleborus orientalis) is quite at home in Chicago's chilly spring — blooming for six to eight weeks, beginning in mid-February, when snow is often still on the ground. Lenten roses grow to 18 inches tall, bearing cup-shaped, 2-inch, rose-like flowers ranging in color from white to rose-purple. Hellebores in general tolerate a variety of soils, and they are an excellent choice for shady locations under trees and near shrubs in the home garden.
The genus Helleborus was a name used by Theophrastus for all medicinal herbs (including this genus). Later botanists honored this famous physician by officially adopting his name for this genus of plants. In the ancient world, extracts from Helleborus were used as a dangerous cathartic and in veterinary medicine. The poisonous alkaloids cause a burning sensation in the mouth, and so are rarely accidentally ingested.
Joel bush cherry resembles flowering almond in form, with similar but lighter pink-to-white flowers. Growing to 4 feet when mature, these shrubs require well-drained soil and full sun for best fruiting. Ordinarily, two varieties are needed for pollination, but 'Joel' is a self-fertile cultivar. In fall, be prepared for a fiery display of foliage lasting late into the season.

Developed by the late Elwyn Meader of Durham, New Hampshire, all nurserymen agree that bush cherries are not as attractive to birds as spring-bearing trees. According to Hartmann's Plant Company, this is because "birds do not normally consume red fruits in the late summer." In any case, the small, red cherries borne are edible and perfect for pie.

Joel bush cherry (Prunus jacquemontii x japonica 'Joel') is in the Regenstein Fruit & Vegetable Garden.

One of the most stunning flowering trees of spring, 'Appalachian Red' was discovered growing beside a road in Maryland. The brilliant fuchsia flowers are much brighter than the typical redbud, making it a highly desirable landscape plant.

Redbuds are a small-scale tree with big impact. A midwestern native plant growing 15 to 25 feet tall, eastern redbuds often have short trunks that begin branching close to the ground. Purple-pink flowers in March or April bloom directly on branches and mature trunks. After their early springtime show, glossy, heart-shaped leaves up to 5 inches give redbud its summertime appeal. In native habitats, redbud grows as an understory tree in partial shade and soil that is naturally rich with organic matter. In cultivated gardens, redbud feels at home in dappled shade, but it performs well in full sun as long as soil is consistently moist.

Appalachian Red redbud (Cercis canadensis 'Appalachian Red') is on the Viburnum Walk, just west/northwest of the Model Railroad Garden.

The purple-blue buds of Virginia bluebells open to sky-blue, trumpet-shaped flowers in March and April, and last about three weeks before other plants grow in. This midwestern native naturalizes easily when grown in organically rich soil that is moist and fertile. Because bluebells wither and become dormant by summer, they are best planted between other plants, where their absence won't be missed.

Virginia bluebells (Mertensia virginica) are in McDonald Woods.

Autumn flowering cherry is noted for producing a heavy bloom of semi-double pink flowers in spring with an additional but sparse bloom occurring in fall (hence the cultivar name). The canopy on older trees often grows wider than the tree is tall. Growing roughly 25 feet tall with a rounded, symmetrical crown, it has a higher tolerance for temperature extremes of summer heat and winter cold than most flowering cherries. As an added attraction, autumn flowering cherry has spectacular golden fall color. It has moderate drought tolerance and is best suited for USDA Zones 5a through 8b.

Autumn flowering cherry or Higan cherry (Prunus subhirtella 'Autumnalis') is in the Japanese dry garden on Seifuto, the smallest island of the three composing the Malott Japanese Garden.

Use this map to help plan your walk.