What's in Bloom
What's in Bloom — Highlight 03.22.13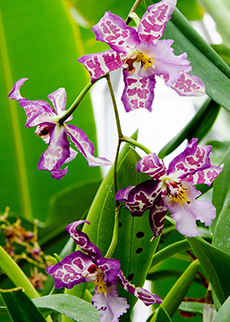 Pinky Lee oncidium-type orchid (Vuylstekeara Cindy 'Pinky Lee') is featured on both orchid trees in the Tropical Greenhouse.
Pinky Lee orchid (× Vuylstekeara Cindy 'Pinky Lee)', an Oncidium-type hybrid orchid, is a cross between Miltonia 'My Clown' and Oncidium Shonan 'Pinky'. It is one of the few pink-blooming oncidinae with amazing, relatively large mottled blossoms. The beautiful colors range from shades of pink and lavender to purple and red, with some yellow in the center. The matte flowers have purple sepals and mottled petals with a light purple lip and a darker purple margin. Mature plants can have six to eight flowers per bloom spike.
Very easy to grow in medium light with average watering, this stunning orchid is best grown in slightly humid, cool, well-ventilated conditions because of the Miltoniopsis in its breeding background. It is named in honor of Charles Vuylsteke (1844–1927), considered the father of orchid cultivation. In 1904, he became the first nurseryman in the world to create an Odontioda intergeneric hybrid, and shortly before the First World War, he also was the first to produce a tri-generic hybrid containing three genera of orchids, something that had previously been considered impossible.
Genista canariensis, commonly known as Canary Island broom, is a shrubby member of the pea family (Fabaceae) endemic to the Canary Islands, off the northwest coast of Africa. For two to three weeks in early spring, it is covered with masses of fragrant gold flowers. For years it was taxonomically placed in the genus Cytissus. Despite its limited natural distribution, it has become widespread in natural communities in southestern Europe, California, and Washington state.

Canary Island broom (Genista canariensis) is in the East Greenhouse checkerboard.

Red tower or spiral ginger is a large member of the Costus genus (Costaceae) that grows in a spiral habit to a height of 4 to 8 feet. Beginning in early April and lasting through autumn, Costus barbatus 'Red Velvet' sends forth blooms in long inflorescences ending in bright red, waxy bracts. Lemon-yellow (and edible) tubular flowers emerge one at a time from between the bracts. Each flower lasts only a day, but the bracts continue to grow throughout the season, reaching a length of 6 to 10 inches. Old bracts die off quickly and new ones replace them throughout the bloom season, giving this plant the illusion of being perpetually in bloom.

When not in bloom, this Costa Rican native is still a very attractive ginger, bearing dark green, shiny leaves with a soft, downy, sage-green underside, making it a staple attraction in any tropical environment.

Red tower or spiral ginger (Costus barbatus 'Red Velvet') is in the South Greenhouse.

Crinum augustum 'Queen Emma', commonly known as Queen Emma giant spider lily, is a member of the Amaryllidaceae family. Native to tropical Southeast Asia, it is commonly grown in Mexico's hot lowlands. Its fragrant white, star-shaped flowers with purple on the back of the petals are borne on large inflorescences on red stems. The handsome, strappy foliage arises from giant fleshy bulbs, which can weigh as much as 20 pounds. The broad, dark maroon-tinted leaves are centered with a depressed midvein that runs the entire length of the leaf, which can reach 36 inches in height.

This striking, exotic plant blooms best in full sunlight in USDA Zones 8 to 11, where it can grow to a height of 5 feet with a 3-foot spread. It requires very high moisture and should not be allowed to dry out between watering. The cultivar is named for humanitarian Queen Emma (Emma Rooke (1836–85), the queen consort of Kamehameha IV), who ruled Hawaii from 1855 to 1863.

Queen Emma giant spider lily (Crinum augustum 'Queen Emma') is in the Tropical Greenhouse, near the fountain.

Golden shrimp plant or golden candle plant (Pachystachys lutea) is a subtropical, soft-stemmed, broadleaf evergreen shrub native to Peru, where it grows 2 to 6 feet tall. Its opposite, 6-inch, lance-shaped to elliptic medium green leaves are heavily veined, providing an attractive backdrop to its interesting flowers. The blooms are zygomorphic (divided by a single plane into two mirror-image halves). They are two-lipped, long-throated, short-lived white flowers that emerge sequentially from showy, overlapping, bright yellow bracts on racemes (flowers that bloom along a single central axis) produced throughout the warm months. Its four-sided, 3- to 5-inch bracts somewhat resemble the overlapping scales on a shrimp—the inspiration for one of its common names.

A popular landscape plant in tropical and subtropical areas, the golden shrimp plant grows in almost any moist, organically rich, well-drained acid soil. It thrives in full sun but will tolerate part shade. Winter hardy in USDA Zones 10 to 11, in the Midwest it blooms in the summer. As a houseplant, it requires warm, humid, sunny locations.

Golden shrimp plant or golden candle plant (Pachystachys lutea) is near the west exit of the Tropical Greenhouse.
Today's photos courtesy of photographer Bill Bishoff.

Use this map to help plan your walk.