What's in Bloom
What's in Bloom — Highlight 03.15.13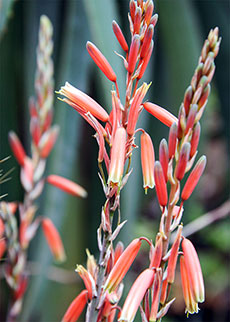 Blue Elf aloe (Aloe 'Blue Elf') is in the Arid Greenhouse at the far west end.
Blue Elf aloe (Aloe 'Blue Elf') is a vigorous, tight-clumping aloe that grows 18 inches tall by 2 feet wide. It forms upright rosettes with narrow, tapered, gray-blue leaves with red-brown teeth along the margins. The foliage contrasts beautifully with its 16- to 18-inch-tall spikes of tubular orange flowers. The plant explodes with blossoms in late winter and throughout the spring. When the show is over, the slender-leafed foliage remains blue throughout the rest of the year. It thrives in full sun or light shade and will even grow in deep shade, where it will be a bit greener and more prostrate, but won't flower.
This hardy aloe (in USDA Zones 9-11) requires only occasional irrigation and grows well in full sun in desert heat. Attractive in mass plantings as a succulent groundcover or potted specimen, it's also successful placed into rock or succulent gardens, where it acts as a strong magnet to bees and hummingbirds. It requires very porous soil and excellent drainage with ample airflow.
New Gold lantana (Lantana camara 'New Gold') is a sterile lantana hybrid producing a continuous display of brilliant golden-yellow flowers in profuse clusters on a trailing/mounding plant to 15 inches tall and 24 inches wide. Outdoors, it attracts butterflies and bees, but the scents produced by the crushed leaves repel deer and rabbits. In climates that do not get colder than 25 degrees Fahrenheit, this plant is a deciduous perennial that flowers from spring to fall, but in warmer climates, it is evergreen and flowers continuously.

The sterility of this hybrid is a great boon for gardeners in USDA Zones 8a and warmer, where the seeds of other cultivars are spread outside the garden by birds who favor the turquoise-colored fruits.

New Gold lantana (Lantana camara 'New Gold') is flowering in checkerboards of the Subtropical Greenhouse.

Flamingo flower (Anthurium andreanum 'White Heart') is native to the wet tropical mountain forests of Central and South America and therefore thrives in greenhouses or conservatories where the temperature doesn't drop below 60 degrees Fahrenheit. This spectacular plant has glossy, heart-shaped, dark green leaves up to 1 foot long and stems that may grow to a height of 15 to 20 inches. It is one of the few plants that can move its leaves toward or away from the sun. Its white blossoms are distinguished by a straight flower spike. The heart-shaped flower is really a spathe (waxy, modified leaf), flaring out from the base of a fleshy spike (spadix), where the tiny, real, unisexual flowers grow. They appear as a roughness on the spadix.

Flamingo flower is an epiphytic plant, often growing on other plants and hanging from trees, but it is independent and not parasitic. Popular foliage plants, anthuriums are grown for their attractive, long-lasting, flowering bracts and are widely used by the cut-flower trade. Discovered in 1876 in Columbia, the name Anthurium means "tail flower." All parts of this stunning plant are poisonous, so admire this selection from afar, and keep it away from pets. If ingested, it may cause mild stomach disorders, and the plant's sap can cause skin irritation.

White Heart flamingo flower (Anthurium andreanum 'White Heart') is in the Tropical Greenhouse, near the eastern entrance.

Blue ginger (Dichorisandra thyrsiflora), a member of the Commelinaceae family, is a tropical plant that resembles ginger in growth and habit but is actually related to the spiderworts (genus Tradescantia). This striking plant is native to the tropical woodlands of North, Central, and South America, especially in Atlantic forest vegetation in Brazil. It is cultivated for its handsome spotted stems and large shiny foliage, which is held horizontally, surmounted by intense blue flowers. The lance-shaped leaves grow in a spiral arrangement around its tall stem. The leaf sheaths wrap the stems, and the fleshy, canelike stems emerge from underground rhizomes. The upright, three-petaled flowers have three sepals, small bright yellow stamens, and a tricornered central white "eye." Individual blooms are ½ inch in diameter, and grow in terminal flower clusters up to 8 inches long. This is one of the few tropical plants that blooms in a cool blue; most tropicals bloom in the warmer yellow, orange, or red hues, so it is a prized selection for the outdoor tropical landscape garden, where it can grow to 6 feet in moist, shady areas.

First described by naturalist Johann Christian Mikan in 1823, blue ginger was first grown in England in 1822 and is recorded from Sir William MacArthur's "catalogue" in 1857 of plants he grew in Camden, southwest of Sydney.

Blue ginger (Dichorisandra thyrsiflora) is in the Tropical Greenhouse, near the western exit.

Lampranthus godmaniae is a species of ice plant with 1-inch daisylike, vibrant magenta flowers that bloom in the morning and close in the late afternoon. The bushy, creeping succulents consist of pairs of short, waxy, cylindrical blue-green leaves. A member of the Aizoaceae family, it provides one of the most spectacular displays of bright flowers from the succulent world and is therefore widely used as either annual or perennial groundcover, as the climate allows. A native of South Africa, it thrives in full sun with frequent watering; in intense sunlight its leaves tend to turn red.

Ice plant will grow in rather poor soil with good drainage, making it a good choice for planting on slopes or in rock gardens, where it will provide dense coverage and brilliant color.

Ice plant (Lampranthus godmaniae) is in the Arid Greenhouse near the agaves.

Use this map to help plan your walk.