What's in Bloom
What's in Bloom — Highlight 03.08.13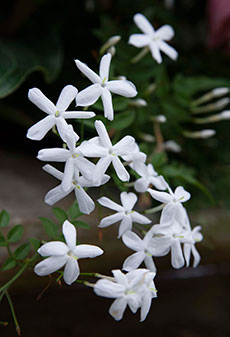 Pink jasmine (Jasminum polyanthum) is in the Tropical Greenhouse, on the lower level, near the fountain.
Pink jasmine (Jasminum polyanthum) is an evergreen, twining climber native to China. It produces an abundance of light pink flower buds in late winter and early spring, followed by masses of fragrant, trumpet-shaped, starlike white flowers. The plant bears compound leaves with five to seven leaflets. The leaves are dark green on the upper surface and a lighter green on the lower.
Pink jasmine is very vigorous and can grow up to 9 feet in height when supported. In USDA Zones 8 to 11 it can be grown in the garden, where it provides an effective cover on walls and fences with its semideciduous to evergreen foliage. It grows quickly in either sun or light shade, does not suffer pest or disease problems, and can be propagated by stem material, seeds, or suckers. Well known as a house plant in the United States and Europe, pink jasmine was first described by Adrien René Franchet in Revue Horticole 1891. It was given the Award of Garden Merit by the Royal Horticultural Society (RHS) in 1993 and was chosen on the bicentenary list of 200 plants for the RHS.
The Triumph orchid (x Laeliocattleya Drumbeat 'Triumph') has it all! This 2-foot-tall, reliable, lavender orchid bears enormous 5-inch flowers with up to 8 blooms per spike. Its lavender tepals (outer part of the flower) have dark magenta markings on the lip and a free-blooming character. Its hardiness indoors (and at USDA Zones above 9 outdoors) makes it a popular member of the Orchidaceae family. It is easily recognizable as the classic, fragrant corsage orchid. The cultivar 'Triumph' has been produced from the intergeneric hybrid (Drumbeat) between the genera Laelia and Cattleya. It blooms from May to June, is temperature tolerant, and does well in partial sun. The soil should be allowed to almost dry out between waterings.

Triumph orchid (x Laeliocattleya Drumbeat 'Triumph') is in the Tropical Greenhouse on the easternmost orchid tree in the banana belt.

Cardinal's guard (Pachystachys spicata), a member of the Acanthaceae family, is native to South America and the greater Caribbean. This ornamental tropical plant bears large clusters of brilliant red flowers along an erect terminal spike with overlapping green leaf-like bracts. The flower clusters are composed of 2-inch tubes with two central lobes at right angles and two protruding stamens. Its dark green, glossy, oval leaves have prominent veins and grow to 12 inches. The shrub will reach 6 feet in height and grows best in a sunny location in fertile, sandy, loamy, well-drained, moderately moist soil, where hummingbirds love to feed at its tubular blossoms. The name was validly published by Hipólito Ruiz López and José Antonio Pavon, but it was not until 1986 that Dieter Carl Wasshausen reclassified it into today's valid botanical systematics.

Cardinal's guard (Pachystachys spicata) is in the Tropical Greenhouse, just to the east of the Palm Allée, near the entrance.

Hanging lobster claw (Heliconia rostrata) is native to Central America, where migrating hummingbirds from North America pollinate the flowers while hovering to sip nectar. Their foreheads get dusted with pollen in the process — which apparently annoys some of them, because they have learned to poke a hole in the side of the flower to access the nectar and avoid the messy pollen! Let us hope not too many adopt this approach, because this is a spectacularly ornamental species.

Distant cousins of cannas, they share the same growth habit, producing rhizomes every year that are topped with an inflorescence (group of flowers); unlike cannas, they require temperatures well above 50 degrees F. throughout the year in order to thrive and flower.

Hanging lobster claw (Heliconia rostrata) is in the Tropical Greenhouse, west side, behind the queen cycad.

Acacia decora, commonly called showy wattle, is native to eastern Australia. It derives its species name from the plant's decorative qualities. This shrub grows in an erect or spreading shape from 9 to 12 feet in height, with variable gray-blue, spearhead-shaped foliage and reddish-brown-ridged, hairy branchlets. The phyllodes (flattened leaf stalks that function as leaves) are generally thin and grow up to 2 inches long with a prominent midvein. It produces profuse racemes of golden, ball-like, bright yellow flowers in clusters of 15 to 30 blooms, each of which is ½- to 1½-inch long.

Showy wattle is a fast grower that blooms from February to April in a frost-free conservatory with full sun and dry, well-drained soils. Not surprisingly, it thrives in open positions on rocky ridges or outcrops with degraded soils, but it adapts happily in cultivation to a range of lighter, drier, well-drained soils. It is also drought hardy.

Showy wattle (Acacia decora) is in the Arid Greenhouse, just inside the southernmost doorway.

Use this map to help plan your walk.