What's in Bloom
What's in Bloom — Highlight 03.01.13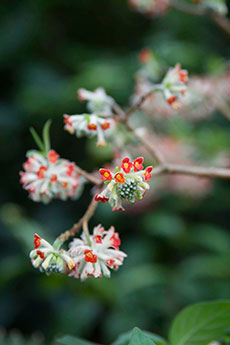 Red Dragon paperbush (Edgeworthia chrysantha 'Red Dragon') is near the carnivorous bog in the Subtropical Greenhouse.
Red Dragon paperbush (Edgeworthia chrysantha 'Red Dragon') is a compact and beautiful addition to the sunny or lightly shaded garden. The genus, a member of the Thymelaeaceae family, was named for Michael Pakenham Edgeworth (1812–81), a keen amateur English botanist. The intensely fragrant blooms of the paperbush are the size and shape of golf balls, and cover the shrub before leaves appear in early spring. Dozens of tiny florets with a flare of watermelon-red emerge from green buds at the very end of each elegant branch, creating a stylized and unusual look. The blossoms remain for weeks, and may be cut for indoor arrangements for those who find the heavy, musky-sweet aroma—not unlike lilies—appealing.
Paperbush blooms at just the perfect time to join spring bulbs in the garden to produce an incredible show of color and fragrance. This magnificent shrub has a very open, branching habit — spidery, yet rounded. It can reach 5 to 6 feet in height and width, and is covered in pointed olive-green foliage from midspring through fall. Very slow growing, it gradually acquires a beautiful shape; the outline of its bare winter silhouette is almost as exciting as its blossoms. After the flowers pass, the widely spaced, bowl-shaped branches produce whorls at the ends, giving an entirely different look to 'Red Dragon'. Grown in moist, well-drained soil, it is suitable for large containers, and given its resistance to most pests and diseases, this Asian native is long-lived and carefree.
Red Fox™ Red Purple cineraria (Pericallis x hybrida Red Fox™ 'Todaisy' Red Purple) is an herbaceous flowering plant that originated as a hybrid between Pericallis cruenta and P. lanata, both natives of the Canary Islands. First developed in the British royal gardens in 1777, it was originally known as Cineraria x hybrida, but the genus Cineraria is now restricted to a group of South African species, with the Canary Island species being transferred to the genus Pericallis. Some botanists also treat it in a broad view of the large and widespread genus Senecio.

When in full bloom, Red Fox™ is covered with showy, daisylike flowers in a vibrant pink. There are other named hybrids and strains in an astonishing range of deep and pastel colors in white, pink, blue, lavender, and purple; many display white sections. The plants form a 12- by 12-inch mound with generally ovate, light green, softly hairy foliage. They prefer temperate climates with bright, filtered light and are treated as summer annuals or winter-flowering indoor plants in this region; they grow best in humus-rich cool, moist, well-drained soil.

Red Fox™ Red Purple cineraria (Pericallis x hybrida Red Fox™ 'Todaisy' Red Purple) is blooming in the Subtropical Greenhouse beneath the calamondin orange tree.

Wine Shades Mona Lisa™ anemone (Anemone coronaria 'PAS1863' Mona Lisa™ Wine Shades) is commonly called a poppy anemone. Native to southern Europe and the Mediterranean, this showy, vibrantly colored specimen has 4- to 4½-inch, dark-centered flowers borne above mounded clumps of divided, matte, ferny leaves. Its blossoms sit atop sturdy, thick, 18-inch stems, which make the blooms excellent for cutting. Mona Lisa™ will flower under lower light levels than other anemones, and low temperatures (46 to 54 degrees F.) will promote optimum stem length.

A must-have for the spring garden in USDA Zones 7 and warmer, compared with many other cool cut-flower greenhouse crops such as carnations, this anemone is less labor-intensive and doesn't require staking, netting, or disbudding. It is also well suited to greenhouse or field production. The beautiful plant provides texture and color in containers, moist woodland settings, or rock gardens.

Wine Shades Mona Lisa™ anemone (Anemone coronaria 'PAS 1863' Mona Lisa™ Wine Shades) is just to the north of the carnivorous bog in the Subtropical Greenhouse.

Pink lantern (Medinilla magnifica), a member of the Melastomataceae family, is more commonly known as the Malaysian orchid, despite not being part of the orchid family. Native to the mountains of the Philippines, this species is found mostly in the tropics. The leaves are somewhat distinctive, being opposite, decussate (x-shaped), and usually with three to seven longitudinal veins arising from the base of the blade. Its exotic cascading blossoms are borne either singly or in clusters on a central stem with a single terminal flower that develops first, with the other flowers in the cluster developing afterwards. The blossom is made up of many small flowers cupped in bracts (large petal-like leaves) that can grow to 20 inches. Look carefully, and you can see delicate purple anthers sticking out of the trumpet-shaped flowers. This small detail is the finishing touch and its hallmark. Easy to grow, it likes a lot of light and prefers to become somewhat dry between watering. This unique, elegant plant won the title Favorite New Flowering Plant at the Tropical Plant Industry Exhibition in 2012, and is now being called "the Rolls Royce of houseplants."

Pink lantern (Medinilla magnifica) has replaced the hanging basket of orchids at the end of the Palm Allée in the Tropical Greenhouse.

(Phaius tankervilliae 'Rabin's Raven') is commonly called nun's orchid because if you look into the throat of the flower, there appears to be a nun with her head bowed in prayer. This lovely terrestrial orchid is a robust plant that blooms with clusters of four to 12 fragrant blossoms; they are marked by burgundy or bronze on the lips, and brown petals that are creamy white on the reverse side. It displays its delightful flowers prominently above elongated, pleated leaves, on stalks that can be up to 6 feet tall. Relatively easy to grow, it clumps vigorously and is believed to be the largest of the Australian orchids. It is one of about 30 species of Phaius that grow from East Africa to Australia, and it has naturalized in some areas of Florida. This impressive plant likes well-drained soil in bright shade.

Nun's orchid (Phaius tankervilliae 'Rabin's Raven') is in the Tropical Greenhouse near the west exit.

Use this map to help plan your walk.