What's in Bloom
What's in Bloom — Highlight 2.28.12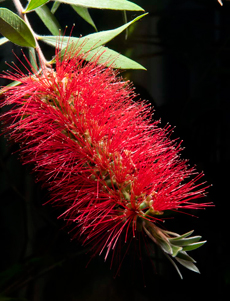 Crimson bottlebrush (Callistemon citrinus) is flowering in the Subtropical Greenhouse.
Callistemon citrinus, or crimson bottlebrush, is a native of Australia that produces massive displays of red stamens at the tips of the branches from mid-winter through early spring. Full sun in average to moist soils are the preferred growing conditions. The new growth is produced just after flowering, and the silky white leaves are attractive in and of themselves.
A member of the myrtle (Myrtaceae) family, crimson bottlebrush has pungent sap and leaves that deter most insect pests. Like other native Australian plants, it is susceptible to several genera of fungi that cause damping-off symptoms in plants of all ages. Other Australian genera in this family have no resistance to these diseases, and trekkers walking through native habitats are strongly encouraged to disinfect their hiking shoes if they have been in agricultural areas or gardens.


Giant pinwheel flower (Tabernaemontana holtstii) produces immense ivory-to-white pinwheel-shaped fragrant flowers, primarily during the winter months in the Chicago area. A native of tropical east Africa, it desires filtered sunlight with average water and fertilizer. Amazingly hardy for a plant native to the tropics, it can tolerate temperatures at or slightly below freezing for a short period of time without damage to the flowers or foliage.

Giant pinwheel flower (Tabernaemontana holstii) is in the Tropical Greenhouse.

Bush lily (Clivia miniata) produces sprays of orange flowers in late winter surrounded by tough evergreen strap-shaped leaves. Bush lily makes a spectacular indoor plant, due to its tolerance of low light levels and need for little to no water during the winter. Although it is one of those rare plants that actually blooms best if slightly potbound, its roots are perennial, and the plant resents root disturbance (which usually displays as a skipped flowering cycle).

This species is native to southern Africa, where it inhabits the shady, dry environments created by groves of small trees and shrubs. Large sums of money are paid for plants with unusual leaf variegations and yellow(ish) flowers by a devotees of this genus in Japan, Europe, and North America.

Bush lily (Clivia miniata) is in the Arid Greenhouse.

This time of year the orchid displays reach their peak. The dragon mouth orchid is native from Guatemala to Panama, where the subspecies rosea is found. The flower spikes can produce flowers for up to three months, and each of the flowers smells like chocolate. This species requires very bright light whether grown in greenhouses, on a windowsill, or under artificial lights. During the summer growing season it prefers a moist, humid growing environment, but in the winter the watering should be reduced and diurnal — the difference between night and day low temperatures —with temperature fluctuations of 10 degrees to initiate flower production.

Dragon mouth orchid (Encyclia cordigera var. rosea) is in the Tropical Greenhouse, lower level, east epiphyte tree.

Kalihi butterfly orchid (Psychopsis 'Kalihi') is another of the unusual orchids in flower this week. Known as the butterfly orchid, the exotically patterned yellow-and-brown petals were thought to have been the "spark" that set off the orchidmania of nineteenth-century Victorians. This genus ranges from the West Indies to Costa Rica and south to Peru.

Kalihi butterfly orchid (Psychopsis 'Kalihi') is in the Tropical Greenhouse, lower level, west epiphyte tree.

Use this map to help plan your walk.