Support
OFFICERS
Lindsey C. Axel
Riley S. O'Neil
Co-Presidents
Annie O'Scannlain Barlow
Vice President, Membership
Kimberly J. Burt
Vice President, Nominating
Karen Hawkins
Vice President, Programming

Tom Reynolds
Treasurer
Pim Alley
Secretary
The Guild of the
Chicago Botanic Garden
Founded in 1998, our membership comprises more than a hundred enthusiastic civic leaders from Chicago and its surrounding suburbs.
We are committed to assisting the Chicago Botanic Garden by promoting it to a larger audience, raising funds for its support and providing services that advance the Garden's mission.
We are very proud of the support the Guild has provided the Chicago Botanic Garden. We have raised more than $2.5 million and introduced hundreds of new friends to the Garden; we also hold the honor of being the first board to reach 100 percent participation in the first phase of the Campaign for the Chicago Botanic Garden.
The Harvest Ball is the Guild's main fundraiser. We are proud to direct the proceeds of this evening to benefit the Garden's Center for Teaching and Learning, providing educational programs for teachers and youth from preschool through grade 12. These programs inspire a lifelong interest in the natural world and the sciences, as well as concern and
care for our environment.
Your support will enable the Chicago Botanic Garden to reach, teach, involve, and transform students' lives. Center for Teaching and Learning programs engage students with the sciences while instilling in them a sense of responsibility for protecting our increasingly fragile environment. They are our future.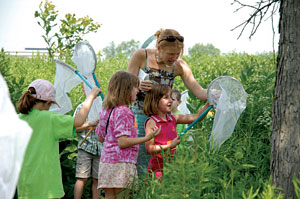 GUILD MEMBERS

SUSTAINING MEMBERS

Brayton Alley
Laura Ferris Anderson
Kimberly Beard
Susanna R. Block*
Amy P. Brock
Jennifer Brown
Donna G. Brunso
Susan R. Bulley
Catherine and Michael* Busch
Susan Canmann*
Colleen and Brendan Carroll
Nicky Creamer
Barrett Davie
Nicholas J. Davies
Emily DeGroot
Phoebe and Spencer DePree
Amy Dilatush
Katie Donovan
Paige Dorn and John Gribbin
Julia and Justin Douglas
Heather W. Dunkel
Isabel and John Fiore
Kate Fisher Fitzgerald
Molly Flavin
John D. Fornengo*
Andrea Garber
Emily Grace
Whitley Bouma Herbert
Carolyn M. Hines
Tony Hoban
Megan Hoffmann
Lisa L. Holstein
Elizabeth A. Hughes
Catherine P. Hurtgen
M. Preston Jansing
Jennifer* and Sanford Kasten



Jennifer P. Keenan
Leigh Keyser
Katie Kirtley
Kim and Edwin Lewis
Anita Livaditis
Anne S. Loucks*
Emily and John MacEntee
Kathryn Bader Mangel
Caroline Masterson
Gloria S. Masterson*
Melissa T. McNally
Peyton H. Merrill
Amanda C. Moore
Eileen Murphy
Jennifer Neighbours
Shawna and Jay* Owen
Katherine and Richard Peterson
Carolynn J. Pfaff
Elizabeth A. Queen
Emily Reynolds
Erin Ritchie
Eve R. Rogers
Elizabeth D. Ryan
Laura Schachtrup
Jackie Schiller
Caroline Schwalm
Todd Schwebel
Julie A. Selakovich
Hilary C. Semple
Bevin Skoglund
Sally Brown Thilman
Lee Thinnes
Kendra Thornton
Julie and Jeremy Unruh
Steven M. Valenti


Elizabeth and Chandler Bigelow III
Rebecca and Victor Garces
Brooke* and James Kuehnle, Jr.
Stephanie Scott Leichtweis
Carrie C. McNally
Anne C. Tucker
*Past President