Education
Jr. Green Youth Farm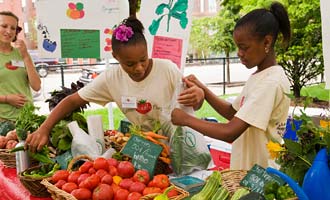 In 2006, the Chicago Botanic Garden expanded the high-school Green Youth Farm program to create the Jr. Green Youth Farm on the campus of a South Side elementary school. Today, the Jr. Green Youth Farm is at Reavis Elementary School in the Kenwood neighborhood of Chicago, providing a school gardening model designed to integrate hands-on gardening experience with school culture and to provide long-term sustainability for the physical garden.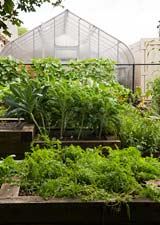 Students spend time in their "edible schoolyard" garden learning where food comes from and helping to create a beautiful and bountiful harvest of fresh vegetables out of previously neglected space.
This school-year and summer program introduces students in grades 5 through 7 to organic gardening, team building, and cooking with fresh produce. School-year activities include an after-school garden club and curricular integration of the garden in standards-based learning. Summer programming includes a six-week program in the school garden. The Jr. Green Youth Farm of Reavis School is conducted in collaboration with Elev8 and Quad Communities Development Corporation (QCDC).
map and directions
The Jr. Green Youth Farm is at Reavis Elementary School, 834 E. 50th Street, in Chicago.