Education
Green Youth Farm Markets
Family, friends, and members of the community are welcome to purchase produce and ask the students about their experiences at our outdoor farmers' markets through October 6, 2012. Locations are listed below.

Visit us at the Chicago Botanic Garden's indoor winter farmers' market beginning mid-October.

View photos of the 2009 Dyett Green Youth Farm Open House on SmugMug.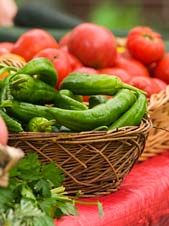 Students also sell their produce through October to the public at several area markets:
U-Pick Market, Greenbelt Forest Preserve (off Green Bay Road in North Chicago) on Wednesdays and Saturdays from 9 a.m. to 1 p.m., mid-July through October 9.
The City of Chicago's North Lawndale Farmers' Market will be held at Covenant Bank 111 S. Homan Ave. every Wednesday morning from 9 a.m. – 1 p.m.
The Homegrown Bronzeville Market on the corner of 51st St. and Calumet on Wednesdays from 9 a.m. – 1 p.m.
Chicago Botanic Garden Farmers' Market, the first and third Sundays of the month from May 5 through October 20, from 9 a.m. to 3 p.m. (rain or shine).
For more information
If you are a student or parent interested in learning more about the Green Youth Farm program, contact Eliza Fournier at , or (847) 835-8352.
Green Youth Farm is a program of the Chicago Botanic Garden in collaboration with the Lake County Forest Preserve District, Neighborhood Housing Services of Chicago, NeighborSpace, Cook County Sheriff's Boot Camp, Chicago Public Schools, the Chicago Park District. Green Youth Farm is made possible by the generosity of the following corporations, foundations, government agencies, organizations, and individuals:

Major Support for this progam comes from the After School Matters, Inc., The Bank of America Charitable Foundation, Alvin H. Baum Family Fund, Charter One Foundation, Evangelical Lutheran Church in America, Elizabeth Morse Genius Charitable Trust, The Grainger Foundation, The Hearst Foundations, Barbara Notz Hines Foundation, Illinois Department of Commerce and Economic Opportunity/Office of Workforce Development, Local Initiatives Support Corporation (LISC), JP Morgan Chase Foundation, Walter S. Mander Foundation, McKenna Foundation, Quad Communities Development Corporation, Sheridan Foundation, and the Steans Family Foundation.

Additional Support for this program comes from the Brinson Foundation, Corner Bakery Café, Garden Club of Barrington, Grossinger Autogroup, HSBC-North America, Kemper Educational and Charitable Fund, Harold M. and Adeline S. Morrison Family Foundation, North Shore Garden Club, Inc., Janice Becker, Edward K. Hibben, Virginia A. Hotaling, the University of Chicago, and Stacy Vaccani.