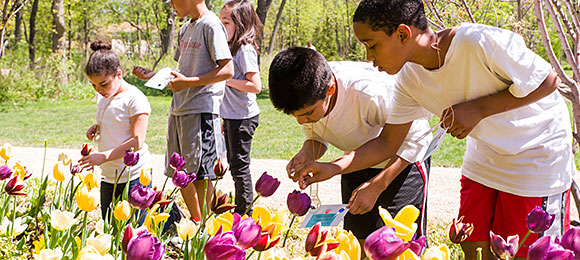 Self-guided field trips allow your students to explore while you lead them through the Garden. Science, language arts, literature, history, geography, art, and other subjects can be explored throughout the different gardens.

Field trips are scheduled Monday through Friday, 9 a.m. to 4:30 p.m., and are available year-round for students and groups of all ages.
Preregistration Fee: $30 per classroom or group consisting of up to 30 people.

Register in advance and Garden staff will be happy to discuss areas of the Garden that would be especially well suited to your curricular topic. Enjoy these other benefits of preregistration:
Parking fees included in the registration fee
Access to public picnic area
Greeting and brief orientation by staff
Gardens especially well suited for self-guided exploration are highlighted below. Please note the approximate walking distances to each garden, starting from the Children's Learning Center. All groups will be greeted at the Children's Learning Center.

Native Habitats
McDonald Woods: 1 mile
Dixon Prairie: 2 miles

Main Island Formal Gardens
Malott Japanese Garden: 1.4 miles
Sensory Garden: 1.5 miles
Regenstein Fruit & Vegetable Garden: 1.4 miles

SELF-GUIDED FIELD TRIP ACTIVITY BACKPACKS
Self-guided Activity Backpacks allow you to lead your students through two hands-on activities designed for school visits to the Garden. The backpack includes the curriculum and all the supplies necessary for the activities. Activity Backpacks can be checked out for either the morning (9 a.m. to noon) or the afternoon (12:30 to 3:30 p.m.).
$10 fee, available year-round, Monday through Friday.