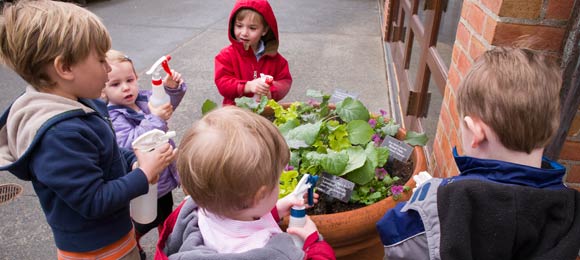 Monday through Friday, 10 a.m. – noon
$120 per class
Maximum Number of Students: 25
A 1:5 ratio of chaperones to students is required.
Discovering Plants
Early Fall, Late Fall, Early Spring, Spring
Become a junior botanist as you learn about the roles of plant parts! To experience plant parts in action, students will explore the Grunsfeld Children's Growing Garden, the Greenhouses (Late Fall/Winter), or the Regenstein Fruit & Vegetable Garden. Each student will pot a plant to take home.
Pre- and Post-Trip Activities
Trees and Trains
Holiday: December 1 - December 19, 2014
Learn how to identify evergreen tree families by touch and sight. Learn about their unique adaptations to the change in seasons. Visit the enchanting Wonderland Express exhibition to experience the trees and trains. Students will take home a special holiday craft.
Outrageous Orchids: Sensational Explorers
February 16 – March 13, 2015
Students will use their five senses to fully immerse themselves in the enchanting world of orchids. We will investigate orchid shape, color, and texture while also learning about the origins of vanilla. Each student will leave with an orchid-themed craft. Admission
to seasonal orchid show included.

Terrific Trees
Outreach Program – Enrich your curriculum by having the Chicago Botanic Garden come to you!
January 19 and February 6, 2015
Through the use of scientific tools and hands-on exploration, students will discover the important role trees play in forest ecosystems right from their own classroom. Students will pot a plant to keep.
Please note: Schools located more than 20 miles from the Chicago Botanic Garden will be charged a $50 mileage fee.