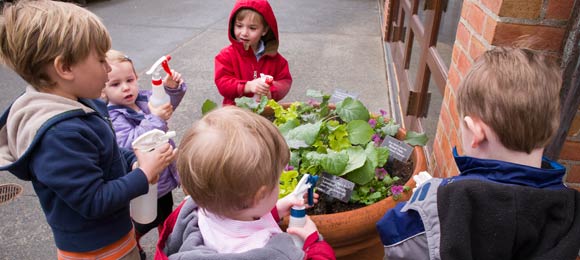 Please note: We are currently updating our guided programs for the 2015-16 school year. Check back in the next few weeks to see our exciting options and new programs.
Monday through Friday, 10 a.m. – noon
$120 per class
Maximum Number of Students: 25
A 1:5 ratio of chaperones to students is required.
Discovering Plants
Early Fall, Late Fall, Early Spring, Spring
Become a junior botanist as you learn about the roles of plant parts! To experience plant parts in action, students will explore the Grunsfeld Children's Growing Garden, the Greenhouses (Late Fall/Winter), or the Regenstein Fruit & Vegetable Garden. Each student will pot a plant to take home.
Pre- and Post-Trip Activities
Trees and Trains
Holiday: December 1 – December 19, 2014
Learn how to identify evergreen tree families by touch and sight. Learn about their unique adaptations to the change in seasons. Visit the enchanting Wonderland Express exhibition to experience the trees and trains. Students will take home a special holiday craft.
Outrageous Orchids: Sensational Explorers
February 16 – March 13, 2015
Students will use their five senses to fully immerse themselves in the enchanting world of orchids. We will investigate orchid shape, color, and texture while also learning about the origins of vanilla. Each student will leave with an orchid-themed craft. Admission
to seasonal orchid show included.