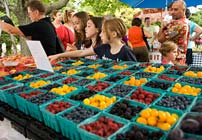 First and third Sundays of the month
May 3 – October 18, 2015
9 a.m. – 3 p.m.
Esplanade
June 21 and July 5: Market will take place on the lawn north of the Visitor Center

Gather seasonal produce, flowers, herbs, and other local, sustainable products at this bimonthly Garden event that is held rain or shine. Talk with vendors and sample fresh fare. Visitors may purchase a special market bag from the Garden Shop to carry their purchases home.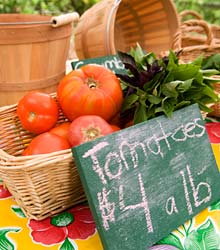 Farmers' Market Vendors
Chicago Botanic Garden Windy City Harvest, Chicago Botanic Garden—organically grown, Chicago area-produced fresh vegetables, herbs, and honey
Melissa Z Monroe Pottery, Mokena, IL—fine, handmade pottery ranging from coffee cups to beautiful vases and household décor inspired by a love for garden flowers and art history
Xanadu Apiary, Lake Villa, IL—extracted, creamed, and comb honey; 100 percent beeswax candles, soaps, lip balms, ornaments, and honey dippers
W&M Land Corp, Woodstock, IL—organic vegetable and flower starts, larger potted plants and produce
Holcomb Hollow, Mundelein, IL—award-winning jams, breads, and more
DTB Woodworking, Libertyville, IL—custom crafted wood creations of various size and scope
Faiths Farm, Bonfield, IL—free-range drug-free beef, pork, turkey, chicken, and brown eggs
Bushel & Pecks, Monroe, WI—organically grown fresh vegetables, herbs, pickles, sauces, and preserves
Wild Flour Bakery, Milwaukee, WI—handmade, local, European-style artisan breads made from natural ingredients
King's Hill Farm, Mineral Point, WI—CSA share provider; certified organic fresh vegetables, fruits, herbs, flowers, shiitake mushrooms
Sunkissed Organics, La Porte, IN—organically grown heirloom vegetables, perennial plants and field-grown chrysanthemums
Prairie Pure Cheese, Belvidere, IL—high-quality artisanal cheeses including varieties such as butterkase, mild, aged cheddar, swiss, feta, and blue cheese
Rushing Waters Fisheries, Palmyra, WI—rainbow trout grown in natural spring water ponds in the Kettle Moraine State Forest as well as a variety of fresh, smoked and frozen fish.
Spark of the Heart,

Chicago, IL—heartwarming soups; at market the first Sunday of each month
The Chicago Botanic Garden is a producer-only market.
E-mail for more information about the Farmers' Market or about becoming a vendor.
The Farmers' Market is held rain or shine. Admission is free; standard parking fees apply.