Weekend Family Classes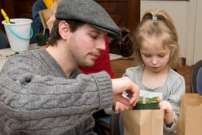 Weekend Family Class: Hot Chocolate
Saturday, January 23, 2016
Sunday, January 31, 2016
9:30 – 11 a.m. or 1 – 2:30 p.m.
Uncover the story of chilies and chocolates—products that come from South American plants! Examine parts of the cacao tree, learn how bitter beans make delicious desserts, and mix up several different kinds of historic chocolate drinks, even an ancient Aztec version. Take home a chocolate mint and a chocolate pepper plant to concoct your own creations.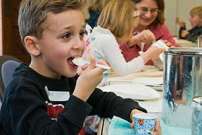 Weekend Family Class: Homemade Ice Cream
Saturday, February 20, 2016
Sunday, February 28, 2016
Saturday, March 5, 2016
9:30 – 11 a.m. or 1 – 2:30 p.m.

Get an up-close look at one of the world's tiniest seeds from the vanilla orchid, make a batch of ice cream, and pot up a plant that can flavor ice cream. There is a limit of two children per adult.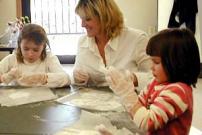 Weekend Family Class: Gumballs & Superballs
Saturday, March 19, 2016
Saturday, April 2, 2016
Sunday, April 24, 2016
9:30 - 11 a.m. or 1 - 2:30 p.m.

Find out how people use parts of rainforest trees to make chewing gum and rubber. Create your own bouncing ball and flavorful gum to take home.