•
•
•
•
•
•
•
•
•
•
•
•
•
•
•
•
•
•
•
•
•
•
•
•
•
•
•
•
•
•
•
•
•
Explore the Garden
The Trellis Bridge
take a tour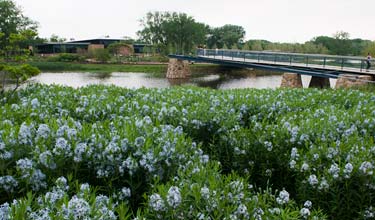 The Trellis Bridge connects Evening Island with the Bernice E. Lavin Evaluation Garden and the Daniel F. and Ada L. Rice Plant Conservation Science Center.
The new bridge makes it easier for Chicago Botanic Garden visitors to enjoy the entire Garden and underscores the vital connection between beautiful gardens and plant conservation research. The Trellis Bridge offers both a physical and metaphorical connection between the current beauty of our display gardens and the promise for protecting their future through the work of the Plant Science Center.
The bridge, designed by Oehme, van Sweden & Associates (OVS), is made from laminated western yellow pine and steel beams. It is 12 feet wide and 300 feet in length. The handrails are stainless steel and steel pickets are at varying distances to create a sense of movement. The bridge rises to 9 feet above the water in the middle to allow for boat passage beneath. Lighting scrapes across the decking to provide dramatic and practical illumination. The Trellis Bridge gets its name from the stainless steel cables that run in a harplike design from its base, narrowing out to form a trellis with vines including Clematis terniflora, Parthenocissus tricuspidata 'Green Showers', and Wisteria frutescens 'Amethyst Falls'. On the east side of the bridge, a large stone bench allows visitors to rest and take in the vista of the lake and gardens.
Oehme, van Sweden & Associates also designed the Gardens of the Great Basin and the Arch and Serpentine Bridges connecting the Lakeside Gardens to Evening Island, as well as the Rainwater Glen and the Green Roof Garden of the Plant Science Center. The firm won the prestigious Chicago Horticultural Society Award.