•
•
•
•
•
•
•
•
•
•
•
•
•
•
•
•
•
•
•
•
•
•
•
•
•
•
•
•
•
•
•
•
•
Explore the Garden
Going Organic at the Fruit & Vegetable Garden

The Fruit & Vegetable Garden is transitioning from conventional to organic gardening practices. The four-part effort focuses on preventive rather than prescriptive strategies; uses organic seeds and plants when possible; manages weeds, pathogens, and pests according to organic practices; and in similar fashion enhances soil health.
Following Nature's Lead
Always lush with an abundance of plants, the Regenstein Fruit & Vegetable Garden is growing even "greener." In an ongoing effort to enhance sustainable and environmentally friendly practices, the Garden has embarked upon a project there to convert to organic farming practices. As horticulturist Rick Belding, who manages the project, explains, "The key to organic gardening is to observe what happens in nature and follow that to the best of our ability."
The first and most important step in transforming a conventional garden to an organic one is to understand the soil dynamics. Healthy soil produces healthy plants, and several methods will be used in the Fruit & Vegetable Garden to revitalize its soil. Rick and his staff will be following the published standards of the USDA's National Organic Program (NOP), managing soil fertility, biological activity, and nutrient levels through cultivation and tillage practices, crop rotations, cover crops/green manures, and the addition of plant and animal waste. NOP standards mandate a 36-month transitional period, which begins once all non-organic practices and the input of prohibited substances ceases.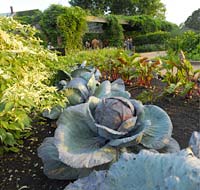 The next step in the transition to organic gardening is to use organic seeds and plants whenever possible. The Chicago Botanic Garden's greenhouse production staff is supporting the Fruit & Vegetable Garden's transition to growing organically by sourcing organic vegetable seeds, and when feasible, adjusting their production practices. Rick notes that there has been an increase in the availability of organic seeds and organically grown plants, as interest in organic gardening increases.
The Garden will also be focused on preventive rather than prescriptive strategies as part of a comprehensive, forward-thinking defense against pests and diseases. "When growing organically, it's important to be proactive versus reactive," says Rick. "For instance, if I'm planting an apple tree, I'll choose a cultivar that is resistant to fire blight, a destructive bacterial disease that afflicts many apple and pear trees, since I have fewer treatment options when growing organically. Understanding that X, Y, and Z are going to be problems allows us to think outside the box and address problems before they escalate."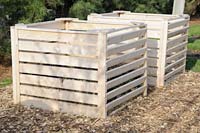 Integrated pest management (IPM)-based organic practices will play an integral role in maintaining the display qualities of the Fruit & Vegetable Garden. The Plant Health Care (PHC) Department will monitor the Garden for insects and diseases on a weekly basis, as well as other plant health concerns. According to Tom Tiddens, Chicago Botanic Garden's PHC supervisor, the goal of this intense monitoring is to discover and evaluate pest concerns in their early stages, before an outbreak occurs. Both Tom and Rick recognize that, when gardening organically, it's especially important to manage potential pest problems early on. When necessary, treatments will be made using a nonsynthetic, botanical, microbial, or mineral-based product that is approved by the USDA for organic production.
In support of the IPM program, Rick and his team will utilize cultural tactics to reduce potential problems. Some of these include crop rotation, intercropping strategies, companion planting, and the use of control (trap) crops. Refuge strips will also be used to attract beneficial insects to the Fruit & Vegetable Garden.
When you visit the Fruit & Vegetable Garden, enjoy spending time in a place that is flourishing naturally. Signs throughout will help you understand the organic process. And don't forget the many other ways you can participate in "green" activities at the Garden.