•
•
•
•
•
•
•
•
•
•
•
•
•
•
•
•
•
•
•
•
•
•
•
•
•
•
•
•
•
•
•
•
•
Explore the Garden
Elizabeth Hubert Malott Japanese Garden
Sansho-En is the Garden of the Three Islands. It is a place of serene beauty where visitors can truly slow down the pace of their busy lives. From the moment you cross the bridge, you enter a world where you are encouraged to observe, listen, and reflect.
Japanese Garden in winter
Certainly a garden for all seasons, it is, many say, most beautiful in winter. Those moments are for snow viewing and shadow watching, where trees and shrubs create landscapes visible only when the world is white. Secrets are revealed; self-discovery awaits.
Designed as a "stroll garden" with curving paths, it discloses its plant treasures gradually, never at once. Pines are pruned to open up distant landscapes, framing perfect views of lakes, grassy hills, woods and gardens beyond. Nature imitates nature as shapes and forms repeat themselves—snowy mounds might be boulders, buried evergreens or clouds. There is wisdom in such simplicity.
In warmer weather, visitors may see inside the Shoin Building, a recreation of a 17th-century samurai's retreat. The tranquil atmosphere of respect and appreciation is echoed throughout the garden. Roving interpreters assist visitors with questions about plants and introduce them to elements of Eastern style and design. Volunteers rake the fine pebbles in the dry gardens, explaining the significance of the patterns. Visitors are encouraged to sit and rake patterns in a tabletop garden.
You can listen to the wind, the rustling grasses or the songs of migrating birds. Stop by a bench and listen to Japanese tales narrated by volunteers. If you visit the garden in spring, guides will show you pictures of its fall glory; visit in winter and you will be inspired by an altogether different enchanting scene.
The garden has a quiet power to change. As you leave the garden behind, you will walk away a different person.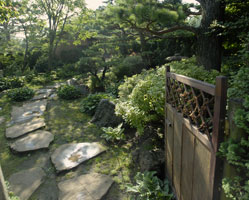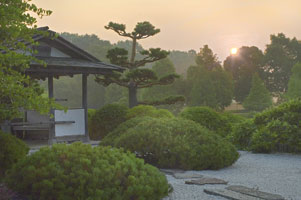 Comments by Kristin Berry, Horticulturist of the Japanese Garden
sansho-en in winter
When I think about Sansho-En in the winter, I get visual flashes in my mind of sparkling snow, dancing shadows, ice-covered branches. These visions evoke emotional responses not easily put into words. There are so many different sights, sounds and feelings that they are difficult to describe in simple sentences. Poetic phrases such as these will hopefully give some idea of how I view the garden in winter:
— Snow drifts across the raked gravel sea. Crested waves upon the distant shore.
— Breathe deep the cold crisp air. Feel alive. See beauty and let it shine within.
— Fluffy flakes float down. Soft landing among the forest pines. Bird twitters and adjusts his warm feathery cloak, snuggled deep in the arms of the evergreen wood.
— Shadows shift and dance on the white sparkling ground. Ink painting images. Which inspired which?
— White flowers bloom atop the green sculpted shrubs. Imagine peonies, camellias, chrysanthemums — buds ready to burst.
— Stark mountain pines in the distance. Foggy island everlasting.