ENJOY YOUR VISIT — Exhibitions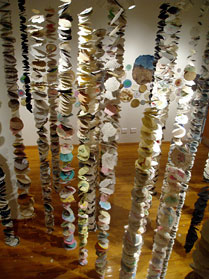 For more information on the Treewhispers project, visit www.treewhispers.com.
Partial funding is provided by the Harriet Kay and Harold R. Burnstein Fund for Exhibitions.
January 14 – April 8, 2012
It seems that everyone has a tree story — climbing a tree or falling out of one, walking in a dense forest, or finding that tree that seemed to speak to you. Treewhispers is an ongoing, international collaboration "awakening our heartfelt connection to trees," involving handmade paper, art, and stories relating to trees as a symbol and resource.
Treewhispers was created in 2000 by Pamela Paulsrud and the late Marilyn Sward. Through this project they have provided papermaking opportunities in public forums and presented the project in a multitude of venues while gathering round, handmade papers from participants around the world.
On the papers, contributors have remembered a tree or the spirit of a tree. Some contributions are simply a magnificent example of beautiful handmade paper and some include text and/or imagery. Some suggest tree rings, depict leaves, or illustrate a personally significant tree; others are imprinted with a poem or a meaningful story relating to trees.
The handmade paper is connected together to create large tree assemblages, and ultimately, a forest of hanging paper rounds for the ever-changing installation.
Interact with Treewhispers
Audio courtesy Beth Barbush and the respective speakers, 2011.
Play audio clip, "Butterflies"
Play audio clip, "The Magical Apple Tree"
Become a part of the exhibition when you purchase a blank, handmade paper round from the Lenhardt Library or the Visitor Information desk, and share your own creativity and story about a tree.
Mail your piece back to the artist at:
Treewhispers
Pamela Paulsrud
923 Amherst
Wilmette, IL 60091