ENJOY YOUR VISIT — Exhibitions
Losing Paradise?
Endangered Plants Here and Around the World
January 16 – April 4, 2010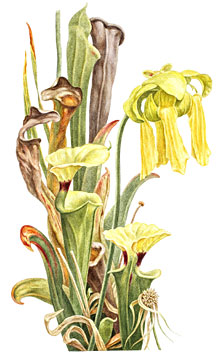 This exhibition in the Regenstein Center draws attention to plant conservation issues around the world. Curated by the American Society of Botanical Artists (ASBA), and developed in collaboration with the Smithsonian's National Museum of Natural History and the Center for Plant Conservation, the exhibition features 44 original botanical artworks of threatened and endangered plants from the United States and around the world. The exhibition and accompanying book are the result of a three-year project undertaken by artists from the United States and around the world, all members of the ASBA.

Seeking to draw attention to today's at-risk plants, artists documented endangered plants in botanical gardens, in the field, and in horticultural collections. About half of the plants represented are North American, and half are from around the world, including such fascinating plant stories as that of the Wollemi pine, thought to be extinct for 2 million years but found in a remote Australian canyon, and a stunning violet slipper orchid (Phragmipedium kovachii), discovered in 2002 in the Peruvian rainforest. American rarities include the Midwestern lakeside daisy (Hymenoxis herbacea), with only two natural colonies remaining in the U.S.; the Everglades "ghost orchid" (Polyrrhiza lindenii); a rare white poppy (Arctomecon humilis) from the Mojave Desert in Utah; and California's coastal Santa Cruz cypress (Cupressa abramsiana), all listed as federally endangered or threatened.
The president of the Missouri Botanical Garden, Peter H. Raven, has written the introduction to the book accompanying the exhibition, and the dean of the Yale School of Forestry and Environmental Studies, Sir Peter Crane, has contributed an essay on botanical art. Essays are also featured by the president of the Center for Plant Conservation, Kathryn Kennedy; the head of the Plant Conservation Unit at the Smithsonian's National Museum of Natural History, Gary Krupnick; and the dean and vice president for Science, New York Botanical Garden, James Miller.
Each artwork in the book is accompanied by the story behind the plant's endangerment and how the artist went about finding and capturing it artistically. Artists with works in the show are from the United States, Australia, Brazil, Israel, South Korea, South Africa, and the United Kingdom. Some of the world's most well-known botanical artists are included, as are some relative newcomers to the field.
From the Chicago Botanic Garden, the exhibition will travel to The New York Botanical Garden and to the Smithsonian's National Museum of Natural History.
Top banner artwork: Cycas seemannii, Australia, by Rita Parkinson