ENJOY YOUR VISIT — Exhibitions
Close: A Journey In Scotland
April 24 – September 26, 2010
Take a journey throughout Scotland via the work of more than 30 renowned landscape designers and artists in this inspiring Garden exhibition.

Inspired by news that a poll had voted a garden in Scotland the country's most important work of art, photographer Allan Pollok-Morris set out on a five-year odyssey, wandering Scotland in search of new works in landscape design and land art.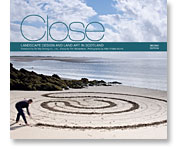 Along the way, Pollok-Morris met and learned from such luminaries as Andy Goldsworthy, Charles Jencks, Ian Hamilton Finlay, Antony Gormley, Arabella Lennox-Boyd, Jinny Blom, Penelope Hobhouse, Gerald Laing, and Xa Tollemache. Today, Pollok-Morris travels the world to spread the word about what this small nation has done to champion the role that gardens and land art play in global arts and culture.
As part of the exhibition, an accompanying film shows various artists and designers who created the works depicted in the more than 250 photographs that will be on display in the Joutras Gallery, and which appear in the accompanying book Close: A Journey in Scotland.
Partial funding is provided by the Harriet Kay and Harold R. Burnstein Fund for Exhibitions.