Exhibitions
In addition to horticultural displays, the Garden presents a wide variety of exhibitions, including fine photography and an array of artwork. Click here for a map of the Garden's Regenstein Center, where most exhibitions take place.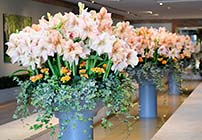 Krehbiel Gallery Plant Displays
The year gets off to a colorful start with bowls of amaryllis followed by the bright yellow and fragrant branches of canary broom contrasted with deep blue anemone poppies. The spring months bring tall flowering spikes of forced perennials such as foxglove, larkspur, and lupines, and a brief appearance of the fragrant, purple-boughed wisteria trees. In the summer, the pool is filled with a variety of tropical foliage and flowers. In the fall, the gallery is filled with baskets of cascading and specialty mums.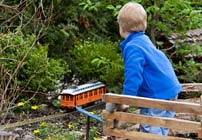 May 7 – October 30, 2016
10 a.m. – 5 p.m.
June 8 – August 31, 2016
Extended hours on Wednesdays only until 8 p.m.

The 7,500-square-foot Model Railroad Garden: Landmarks of America exhibition features trains running on 1,600 feet of track. The garden-scale trains are 1/29th the size of life-size trains. Train and garden enthusiasts, young and old, return year after year for the delightful sights and sounds of the miniature trains traversing high and low through tunnels, across bridges, and around buildings.
Thursday, November 3, 2016, 6:30 – 9 p.m.
Friday – Sunday, November 4 – 6, 2016, 10 a.m. – 5 p.m.
Stunning quilts, lovely knitted artwear, woven wonders, and breathtaking beadwork are among the abundant handcrafted items on view and for sale during the Fine Art of Fiber, held at the Garden's Regenstein Center. The area's oldest, largest, and most unique fiber art event, the Fine Art of Fiber is hosted by Illinois Quilters, Inc., North Suburban NeedleArts Guild, and the Weavers Guild of the North Shore. A complimentary opening night, including early buying privileges, is from 6:30 to 9 p.m. Thursday evening.
November 25 – December 15, 2016
10 a.m. – 5 p.m.
December 16 – January 2, 2017
10 a.m. – 7 p.m.

Take a magical adventure to a winter wonderland of twinkling lights and holiday beauty at the Chicago Botanic Garden when we kick off the holiday season! Outside, 750,000 lights sparkle and welcome you and your family to the Garden's wonderland. Inside the Regenstein Center, a 10,000-square-foot exhibition of miniature trains winds through more than 80 miniature Chicago-area landmarks, including Navy Pier, Soldier Field, Chicago Stadium, the Chinatown Arch, the Art Institute, the South Shore Cultural Center, the Frank Lloyd Wright Robie House, and much more!