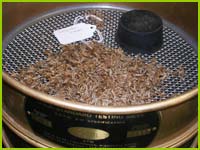 Seed Banking
The Dixon National Tallgrass Prairie Seed Bank, a conservation project at the Chicago Botanic Garden, aims to collect and store, or bank, the seeds of tallgrass prairie region flora.
Due to massive changes in land use the tallgrass prairie, described by the first European settlers as "an endless ocean of grass," has been reduced to less than 0.01 percent of its former range — making it one of the world's most threatened habitats. Scientists at the Garden hypothesize that climate change may further endanger this habitat. Between 2003 and 2009, the Chicago Botanic Garden has committed to collect seeds from 2,000 native species across the Midwest, with an emphasis on tallgrass prairies species, with the goal of conserving prairie plants before they become imperiled.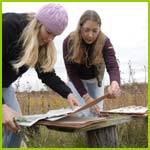 The goal of the seed banking project is global in scope. The Dixon National Tallgrass Prairie Seed Bank, in association with the national Seeds of Success (SOS) program, is part of an international seed conservation initiative collectively known as the Millennium Seed Bank Project (MSBP), originally developed by the Royal Botanic Gardens, Kew, in the United Kingdom. This global program aims to bank 10 percent of the world's flora by 2010 for long-term storage and conservation.
Seed banking — conserving and storing species away from their original habitats — enables plants to escape threats imposed by destructive habitat changes including urbanization, climate change, invasive species, overharvest, and pollution.
This method guards against species' disappearance in the wild and is an important way botanic gardens are helping to conserve plant diversity. Dr. Patti Vitt, curator of the Dixon National Tallgrass Prairie Seed Bank, believes that this is the most important long-term conservation project currently underway at the Chicago Botanic Garden. "Climate change has occurred naturally over millennia, and most organisms proved capable of either adapting or migrating in the face of such environmental change. The changes that we are seeing now, however, are occurring too rapidly for many species to adapt, and given the patchwork of natural areas interspersed with human development, it may be very difficult for many species to migrate."
Adds Dr. Vitt, "I think of the seed bank as a refuge in a bottle. Once, plant species might have found refuge from such changes on a distant mountaintop. Now, they will find it in a freezer."
A single seed holds the potential for a living and functioning plant, and once dried and frozen, they can remain viable for 200 years or more. For every 1 percent reduction in seed moisture content, the lifespan of a seed is doubled, making seed collection an efficient and cost-effective way to conserve the diversity of plant species for generations to come.
Additionally, the Chicago Botanic Garden is expanding the original MSBP goal — which banks one population per species — to become a repository for multiple populations of each of our target collection species. Initially focused on collecting species of high restoration important from each of the eco-regions that constitute tallgrass prairie system, the seed bank can then serve as a valuable restoration collection for conservation purposes and as a resource for a wide community of scientists and land managers.
The Chicago Botanic Garden's Dixon National Tallgrass Prairie Seed Bank collects in states across the Midwest and northern Great Plains — 14 states in all, including Minnesota, Wisconsin, North Dakota, Michigan, and Iowa.
For more information on the Garden's Dixon National Tallgrass Prairie Seed Bank, visit http://cbgseedbank.org or call (847) 835-6861.
Anybody can love the mountains; it takes soul to love the prairie.
– Old Nebraska Sodbuster Saying