Education
Student Field Trips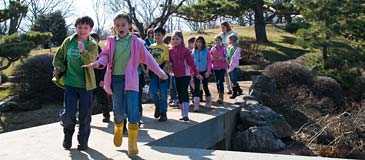 Guided Walking Tours
Seasons Offered: Spring
Tuesdays & Thursdays
Fee: $80 per each classroom or group of up to 30 people total.
A 1:7 ratio of chaperones to children is required.
Explore the Garden with an expert! Guided walking tours combine the flexibility of a self-guided tour with the expertise of an experienced guide. The tours are designed to allow students to explore one of our gardens more in-depth. Groups will be divided in half to allow for a more intimate, interactive experience. Students will enjoy a 30-minute tour of one of the following:
English Walled Garden
Learn how this garden's brick, lattice, hedges, and trees—the elements that make up the "room" walls—reflect the heritage and function of the English Walled Garden's six distinct gardens. Experience this century-old environment in which style and structure are joined to provide a refuge of beauty for its inhabitants as well as protection from intruders…and Mother Nature!
Greenhouses (select one greenhouse)
Wet tropical rain forests, hot desert sands, and warm breezes have produced some of the most unusual and wondrous plants on earth. Each of our three Greenhouses simulates a distinct environment—tropical, temperate, and arid—and displays plants that grow well in that environment. Imagine you're in a foreign land in these closely controlled conditions as you learn about endangered plant species and experience an amazing variety of plant life!
Malott Japanese Garden
Discover how deeply rooted cultural beliefs are reflected in our Japanese Garden, Sansho-En. Designed as a "strolling garden" with curving paths, Sansho-En's plant treasures and experiences are revealed gradually. See a re-creation of a seventeenth-century samurai's retreat and learn the significance of the meticulously raked pebbles in dry gardens. Uncover the legends of Horaijima, the island of Everlasting Happiness, and the Zigzag Bridge, designed to ward off evil spirits!
Plant Science Center
Explore the Daniel F. and Ada L. Rice Plant Conservation Science Center to learn about the Garden's many plant and native habitat restoration activities. Watch scientists conducting research in the laboratories and discover some special features of the plants growing on the 16,000-square-foot "living roof." Learn about the LEED (Leadership in Energy and Environmental Design) gold-certified building. Interact with six hands-on exhibits exploring flower pollination, plants in our lives, and soil creatures.