Education
Student Field Trips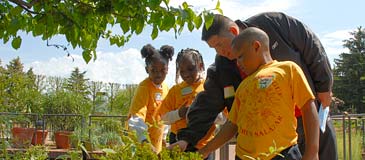 Self-Guided Field Trips
Self-guided field trips allow your students to explore while you lead them through the Garden. Science, language arts, literature, history, geography, art, and other subjects can be explored throughout the different gardens.
Field trips are scheduled Monday through Friday, 9 a.m. to 4:30 p.m. and are available year-round for students and groups of all ages.
Fee: $30 per each classroom or group consisting of up to 30 people.

Register in advance and Garden staff will be happy to discuss areas of the Garden that would be especially well suited to your curricular topic. Enjoy these other benefits of preregistration:
Parking fees included in the registration fee
Access to public picnic area
Greeting and brief orientation by staff
Gardens especially well suited for self-guided exploration are highlighted below. Please note the approximate walking distances to each garden, starting from the Children's Learning Center. All groups will be greeted at the Children's Learning Center.
Native Habitats
McDonald Woods: 1 mile
Dixon Prairie: 2 miles

Main Island Formal Gardens
Malott Japanese Garden: 1.4 miles
Sensory Garden: 1.5 miles
Fruit & Vegetable Garden: 1.4 miles
Enhance your students' experience with Garden Bingo.
Self-Guided Field Trip Activity Backpacks
Self-guided Activity Backpacks allow you to lead your students through two hands-on activities in a Garden area. Each backpack includes all supplies for the activities and can be checked out for either the morning (9 a.m. to noon) or the afternoon (12:30 to 3:30 p.m.).
$10 fee, Available year-round, Monday through Friday.
Sensory Garden (K – 2)
Pre-trip Activities
Two backpacks available per time slot—morning or afternoon.
A feast for the senses! Encourage students to explore plants by using senses other than sight in the first activity, "Leading the Blindfolded." The second activity has students actively looking for nature's true colors. Please allow at least one hour to complete both activities.

Malott Japanese Garden (K – 5)
Pre-trip Activities
Two backpacks available per time slot—morning or afternoon.
Japanese gardens are designed to be enjoyed year-round. The "From Far and Near" activity encourages students to observe and compare the Japanese Garden islands as they approach and then again up-close. Looking for "Designs In the Garden" has students learning and interpreting rock placement in dry gardens. Please allow at least one hour to complete both activities.


NEW! Pollination Pack (Pre K – 2)
Pre-trip Activities
One backpack available per time slot—morning or afternoon. Come see what the buzz is all about! This activity pack allows your class to explore the garden through the eyes of your favorite pollinators. During the first activity students will learn the importance of observation in the scientific process as they follow a pollinator hard at work and record their findings. The second activity allows students to explore the garden's vibrant colors through the eyes of a pollinator with the use of special viewing lenses.

NEW! Ecosystems and Adaptations (6-12)
Pre-trip Activities
One backpack available per time slot—morning or afternoon. Get ready to explore the greenhouses with a scientific lens. The activities in this Discovery Pack will challenge your students to think critically about the relationships between biotic and abiotic factors in our greenhouse ecosystems. The first activity focuses on measuring the abiotic factors in an environment and allows students to work with scientific tools such as digital thermometers and soil moisture readers. The Discovery Pack's second activity works on building students collaborative skills as they work together to design a new, properly adapted plant species for a greenhouse ecosystem.
Food Consumption and Storage
Those groups registering for Self-Guided Field Trips and/or Walking Tours have access to the public outdoor Picnic Glen, located between parking lots 1 and 2 and to the public outdoor picnic area adjacent to the Children's Learning Center. Due to space restrictions, groups are not permitted in the Garden Café. Individuals may carry their lunches in backpacks or store lunches on the bus. In the event of rain, we suggest that groups eat on the bus. Help preserve the Garden's serene atmosphere and maintain its unique and beautiful collections by keeping all food out of the gardens and trails.
Visiting the Garden
Come prepared for your learning experience in the Garden. Download these quick self-guided field trip activity ideas.
Explore the Garden online before your visit or download our free smartphone app to help you plan.