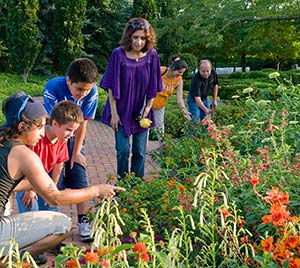 Admission
Admission is free. (No pets allowed, except for service animals.)
Member parking 
Parking is free for members of the Garden — become a member!
Parking Fees
Buy your parking in advance for faster entry.
$25 per car (includes tax)
$10 for senior citizens on Tuesdays (includes tax)
$30 per van (includes tax)
$65 per limousine, minibus, bus & RV (includes tax)
Discounts apply for Cook County residents.
The Garden reserves the right to ask for proof of residency upon entry.
The Garden would like to thank our active duty U.S. military personnel and/or their families, reservists, and former POWs for their years of service. Please present your ID at the entry gatehouse for free parking (one car/van vehicle per entry). 
Parking fees are included in the preregistration fees for school groups. Parking fees are not included for special events.
A free electric vehicle charging station is available at the rear of parking lot 1, and can accommodate two vehicles at a time. It is easily located with the ChargePoint app. 
Parking fees subject to change