Education
Neighborhood Gardens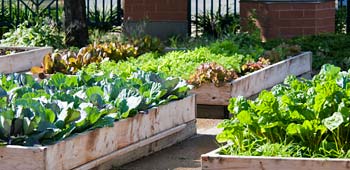 The Neighborhood Gardens program brings beauty and cohesiveness to neighborhoods from Pullman to Edison Park. To create these community gardens, the Chicago Botanic Garden worked with diverse community organizations, including neighborhood development associations, AIDS agencies, domestic violence shelters and churches.
The Neighborhood Gardens program ended in 2004. While the Garden will not be making assistance grants for physical site improvements, it continues to serve as a resource for curricular connections, plant information and inspiration for school and community gardens in the Chicagoland area.
Since 1980, the Garden has been involved in more than 200 community gardens, and 30 more were developed or enhanced in 2004. Find out about our current community projects: Science First, College First and Green Youth Farm.
Queries concerning school and community gardening should be directed to Eliza Fournier at
(847) 835-8352.