OUR GARDEN — PLANT COLLECTIONS
Woody Plants
Ginkgo
(ginkgo)
Quercus
(oak)
Spiraea
(spirea)
Cornus
(dogwood)
Rosa
(rose)
Salix
(willow)
Thuja
(arborvitae)
Amelanchier
(serviceberry)
Actinidia
(hardy kiwi)
The Chicago Botanic Garden's woody plant collection has been built to include the best trees and shrubs for the Midwestern United States, as well as for the many microenvironments within the Chicago region. This collection, which numbers more than 177,435 plants representing 3,205 taxa, is integral to the Garden's aesthetics. From native taxa to cultivars and non-native plants, these plants provide interesting landscape structure characterized by diversity, hardiness and excellent display qualities. As a genetic repository, they also provide an important scientific resource.
The Garden's woody plants, which include acquisitions from plant collecting expeditions, serve as a valuable resource for plant research, plant evaluations and plant introductions.
This collection provides a living encyclopedia for the students of the School of the Chicago Botanic Garden and for schoolchildren and teachers throughout the region
Within a public garden and museum, the plant collection also guides local gardeners and professional horticulturists, informing their horticultural and landscape design choices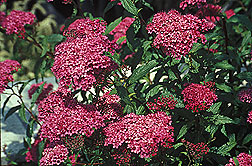 Within the Garden's woody collections, multiple layers are represented. Shade trees form a structural framework, providing height and elevation for the landscape and creating a canopy under which shade-loving plants grow. These shade lovers include smaller-statured trees, shrubs, perennials and ground covers. Shrubs and vines often grow under the tree canopy or are the pioneers of old fields or woodland edges. The ground layer features woody vines and other ground covers.
Three genera of woody plants at the Garden comprise growing collections of significance. These are Amelanchier (serviceberry), Ginkgo (ginkgo), Quercus (oak) and Spiraea (spirea). The Garden also concentrates on six woody plant genera — Actinidia (hardy kiwi), Cornus (dogwood), Rosa (rose), Salix (willow) and Thuja (arborvitae) — that form collections of regional importance to the Upper Midwest.
The Garden is recognized for its commitment to hold and conserve one of America's largest living collection of spirea at the highest level of maintenance and curation. This exemplary collection, considered a national and international resource, is made available to our visitors and professionals interested in comparing and studying this genus.
The AABGA publication Public Garden published an article with further information on the Garden's spirea collection (pdf).
Situated in an established urban environment, the Garden has the expertise to address recommendations for woody plants exposed to pollution and poor soils.