Plant Collections — Staff
Gabriela Rocha Alvarez, B.S.
Labeling Technician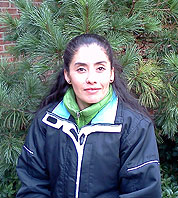 Gabriela Rocha Alvarez is the labeling technician at the Chicago Botanic Garden. Gabriela started working in the Living Plant Documentation department as a volunteer four years ago. Now, as part of the staff, she is in charge of supplying the display labels used to identify the plants all over the Garden. With the dedicated assistance of the labeling volunteers, she produced almost 9,000 labels that were used to identify the permanent plants, annuals, the breeding program plants, and flowers for the flower shows. Once the plants complete their flowering cycle, the labels are returned to the labeling shop, where they are disassembled, cleaned, and filed alphabetically until they are needed the following year.

Other duties include tagging plants for the permanent collections, inventories of some garden areas, and special label requests for the horticulture staff. Gabriela also inventories the 150,000 bulbs the Garden receives each fall. Once the bulb quantities are confirmed and no insects or diseases are found, she coordinates the delivery of the bulbs to the horticulture staff.

Gabriela earned her bachelor of science degree from Agriculture Technological Institute in Guanajuato, Mexico. She studied to become an agronomy engineer.