EVENTS Calendar

An Evening with Andrea Wulf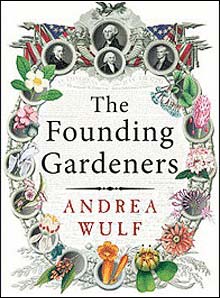 Wednesday, May 18, 2011
$100 per person, exclusively for
President's Circle and Director's Circle members
Andrea Wulf, noted design historian and award-winning author, presents a program celebrating her newest book, The Founding Gardeners. For America's founding fathers, gardening, agriculture, and botany were elemental passions, as deeply ingrained in their characters as their belief in liberty for the nation they were creating. Through stories and historical accounts, Wulf demonstrates a guiding, but previously overlooked, ideology of the American Revolution. The Founding Gardeners will be available for purchase and signing.
4 – 5:30 p.m.

Lecture and Book Signing
Alsdorf Auditorium and Lenhardt Library

5:30 – 6:30 p.m.

Reception and Tour of Plants in Print:
The Age of Botanical Discovery
Joutras Gallery

6:30 p.m.

Dinner
Nichols Hall
Online registrations MUST be made by Friday, May 13, 2011. For more information about this event or to place your registration over the phone, please call the President's Circle hotline, (847) 835-6925.
Join or renew your President's Circle membership today!