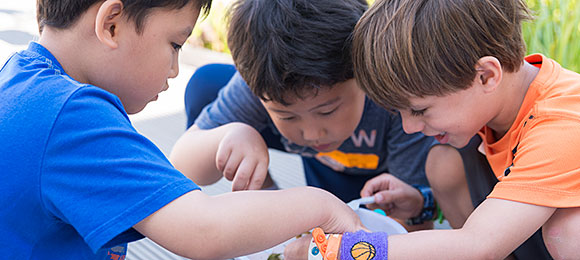 Entering Grades 1 – 2
Ages 6 – 7
Kids can dig a little deeper. Camp activities invite kids to investigate science and nature with hands-on, inquiry-based activities.
Art in the Garden
Green Thumbs discover different natural artistic styles while they explore the Garden. They'll sculpt with clay, make plant dyes, and create their own paper.
Explore Your World
Curious campers will learn about the natural world through guided exploration and discovery by visiting the many habitats at the Garden.
Expert Wizardry
Young wizards will discover the magic of science as they create strange potions and perform unbelievable experiments while learning basic chemistry. No book of spells necessary—we'll make our own.
Grossology
Campers will uncover the science behind "gross" things around and inside them as they explore slimy and smelly natural phenomena. They'll use their observation skills along with scientific tools.
Insect Investigation
Bug lovers, unite! Green Thumbs will search for insect homes, make insect display cases, and create insect-vision glasses to take home.
Incredible Edibles
Young chefs will explore the Garden with their taste buds and find out how plants turn the sun's energy into fuel for our bodies! We'll explore how we eat plant parts every day, harvest food grown in the outdoor classroom, make our own tasty snacks, and plant a vegetable garden to take home.
Kinetic Kids
Budding physicists will discover cool science tricks, explore the laws of motion, and perform physical science experiments with toys.
Treasure Hunt
Campers will develop map-reading skills, use compasses, and discover how archeologists excavate sites. They will create a hidden treasure map and find secret plant treasures, too.
Wildlife Wanderers
Junior ecologists will study creatures on the ground, in the air, and in the water. Create a science kit, plant a terrarium, identify trees and animal tracks, and record everything in your journal.
Plant People
Young horticulturists will explore the fascinating life cycle of plants with plenty of opportunity for scientific discovery, hands-on experiments, and garden cultivation.