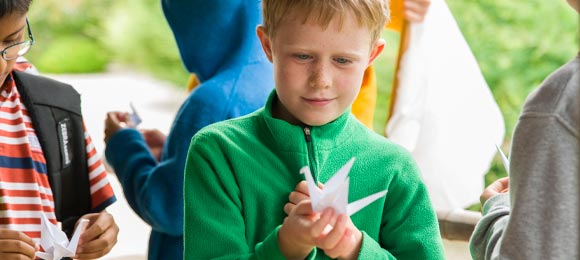 Entering Grades 3 – 4
Ages 8 – 9
Explorer camps offer kids summer science, nature, cooking, and art programs.  Camp activities invite kids to investigate science and nature with hands-on, inquiry-based activities.
Alfresco Art
Campers will become artistically inspired by the Garden and will try their hand at botanical illustration, sculpture, printmaking, and painting. We'll explore new techniques each day of this outdoor art program.
Botany in the Kitchen
Young chefs will discover how fruits, vegetables, herbs, and nutrients make cooking fascinating. They'll harvest vegetables and plant an herb garden.
Camera Craft
Campers will learn the elements of composition and framing snapshots, and practice shooting photos around the Garden. They'll create a pinhole camera and rediscover the magic of nineteenth-century photography.
Dirty Jobs
Have you ever wondered how dirty, grimy, and grubby you can get working in a garden? Campers see what is in a day's work at the Garden—keeping our worm bins healthy, learning about the importance of compost, designing and planting a garden, and meeting a Garden scientist!
Forensic Investigators
This year's all-new mystery will require young CSI team members to try investigative techniques used by the pros to help us get to the bottom of this summer's hot case.
Garden Caching
A new Garden adventure awaits! Explorers will search for hidden caches using compasses, maps, and GPS as they learn the etiquette of geocaching. They'll also create a cache for others to find.
Konnichiwa Japan
Time for immersion in Japanese culture as we explore Sansho-En, learn the art of bonsai, create sushi-inspired snacks, discover the art of calligraphy, and visit the Shoin House.
Surviving Outdoors
Explorers will discover the secrets pioneers used to find water, make a collection of safe and useful plants, create a shelter, and learn about how to predict weather and storms.