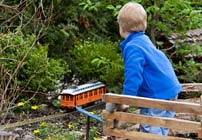 May 7 – October 30, 2016
10 a.m. – 5 p.m.
June 8 – August 31, 2016
Extended hours on Wednesdays only until 8 p.m.

The 7,500-square-foot Model Railroad Garden: Landmarks of America exhibition features trains running on 1,600 feet of track. The garden-scale trains are 1/29th the size of life-size trains. Train and garden enthusiasts, young and old, return year after year for the delightful sights and sounds of the miniature trains traversing high and low through tunnels, across bridges, and around buildings.