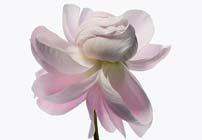 April 19 – June 15, 2014
Krehbiel Gallery

Photographer Paul Lange began his Fifty Acres project in 2006.  It is an ongoing photographic exploration of one idyllic fifty-acre farm located in the Hudson Valley. The entire collection is made up of thousands of photographs devoted to this one unique place, and includes the four series: Big Blooms, Fowl Portraits, Paradisus, and Disturbed Paradise.  The Chicago Botanic Garden is proud to display images from two of these series: Big Blooms and Paradisus.  
In Big Blooms, Lange photographs each flower isolated on a stark white background and lit as a human portrait subject.  For Paradisus, a traditional landscape series, Lange is drawn to individual elements on the Hudson Valley farm.  He sees the landscape in Paradisus as equally art and nature; in changing light and seasons.
If you are interested in purchasing any of Paul Lange's work, please contact the artist directly at paullange.com.