Three Friends of Winter Bonsai Silhouette Show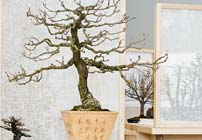 January 25 – 27
10 a.m. to 4 p.m.

To celebrate the winter season in the Japanese tradition, the Chicago Botanic Garden highlights the Three Friends of Winter — bamboo, pine, and plum. By enduring challenging winter weather, these "three friends" symbolize the ability to thrive amidst adverse conditions. Featured bonsai will be in their dormant phase, highlighting their elegant branch structure.
Three Friends of Winter is generously supported by the Astellas USA Foundation.