Seed Swap
Seed-Saving Workshops
In conjunction with the Garden's annual Seed Swap, join us for one or both of these workshops. The workshops are ideal for beginners and experienced gardeners alike.
Seed-Saving Workshops
Register for both sessions at once and save 10 percent.
Seed-Saving Primer
February 24
9 – 10 a.m.
Linnaeus Room
Shannon Carmody, program manager, Seed Savers Exchange, Decorah Iowa
$19 nonmember; members receive 20% discount
Each spring, you dream about what to plant, select your bedding plants and seeds, the brace yourself for the total at the checkout counter. Reduce that investment while creating a perpetual garden, in which the seeds you collect from this season become the miracle of next year's spring. Come learn the essentials to begin your own seed-saving journey.
Planning Your Garden for Seed Saving
February 24
10:30 a.m. – 12:30 p.m.
Linnaeus Room
Shannon Carmody, program manager, Seed Savers Exchange, Decorah Iowa
$37 nonmember; members receive 20% discount
If you're interested in seed saving, understanding some of the basic concepts before you get started will make the process easier. Learn the difference between open-pollinated and hybrid seed and gain understanding of plant taxonomy, reproductive structures, and pollination methods.
Sunday, February 24
Seed Letters Lecture
2 – 3 p.m.
Sara Straate, Seed Historian, Seed Savers Exchange, Decorah Iowa
Alsdorf Auditorium
Free, please register in advance
At this presentation you'll hear the absorbing and touching stories behind some of the favorite heirloom vegetable and flower seeds in the Seed Savers Exchange (SSE) collection. Their Collection Origins Research Effort (CORE) documents seed history in order to understand and preserve the cultural uses, value, and growing methods of the thousands of seeds in their stewardship.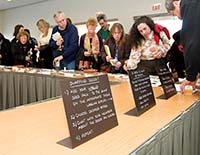 Seed Swap
3 – 5 p.m.
Burnstein Hall
Parking fees apply for nonmembers
Gardeners are invited to bring saved or leftover vegetable, flower, and herb seed packets to share and swap with other gardeners. Beginners are welcome to participate even without seeds. New this year, more experienced seed savers will enjoy swapping with others at the Connoisseur's Corner. Ongoing demonstrations will feature starting seeds indoors, germination testing, and seed saving. Chicago Botanic Garden volunteers and staff will share their favorite and recommended varieties for Chicago gardens. Meet staff from Seed Savers Exchange in Decorah, Iowa.