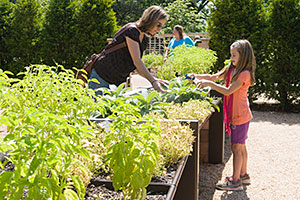 Saturdays, September 6 (SOLD OUT) or 20 (SOLD OUT), 2014
5 – 7:30 p.m.
Experience the Grunsfeld Children's Growing Garden in the fall and see what happens in a garden at the end of the growing season. You and your child will explore the garden to find unique plants used for food, discuss composting plant material and fall clean-up, and even plant and harvest some veggies to take home.
*Don't forget to bring a picnic dinner! Dessert is provided.